'Test win will impact the ODIs'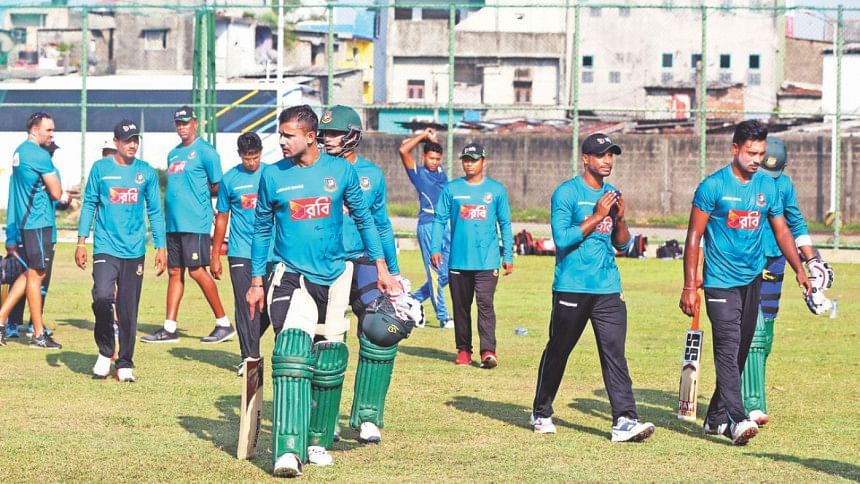 Less than 24 hours after Bangladesh's historic Test win over Sri Lanka in the country's 100th Test, the focus had shifted to the ODI side, such is the relentless forward march of international cricket. The Test squad were given a break after their exertions under the searing Colombo sun, and it was Bangladesh ODI skipper Mashrafe Bin Mortaza's turn to acclimatise with the heat.
There were seven players who were doing fielding drills and net practice at the R Premadasa Stadium premises in Colombo yesterday, five part of the ODI squad -- Mashrafe, Nurul Hasan, Shuvagata Hom, Sunzamul Islam and Mahmudullah Riyad -- along with Abul Hasan and Mohammad Saifuddin who are here for the practice match to be held at the Colombo Cricket Club ground on March 22.
It was evident that the focus had shifted to a more frenetic pace when along with Riyad and Nurul, Mashrafe went into the nets with bat in hand and was soon hitting down-the-wicket power blows that were thudding off the opposite wall. There was more interest to watch the Bangladesh skipper bowl as he has recently recovered from a thumb fracture sustained during the New Zealand T20Is in January.
After taking a breather, Mashrafe looked comfortable with ball in hand, working up decent pace as he bounced Saifuddin. Very soon he bowled a slower off-cutter that clipped Shuvagata's off-stump. It was obvious that he was still getting used to the heat as he looked tired by the time the nets were over. But he had energy enough to talk about Bangladesh's historic win, which he and the ODI squad watched from seats right next to Bangladesh's dressing room at the P Sara Oval the day before. 
"It's a big win for Bangladesh cricket. It's a great joy to watch Bangladesh win the 100th Test, not just for the players but everyone who was there and who watched the match," Mashrafe said. "The players who have come here to play ODIs are lucky that we have witnessed the dressing room and the players' feelings during that win.
"It will definitely impact the ODI series," the skipper continued about the three-match series that will start from March 25 in Dambulla. "Most of the Test squad will be in the ODIs, so they will be mentally motivated ahead of the ODI series.
"We will play white ball cricket after five Tests. Now we have to find scoring options. If we can start well and play as a mentally relaxed team, then everything will be fine."
Bangladesh have only one win over Sri Lanka in 16 ODIs in Sri Lanka, but that one was in their last series in 2013 in Pallekele. But Mashrafe was not looking at that for inspiration.
"Personally, it has never helped me to look at the past. May be other players can get motivated. But I don't take motivation form past. I have so many games in the past, and lost most of them. But that does not mean that I cannot win in the future. I don't think we have to remember those 2013 win."
One issue that has been a bit of a dampener on this tour is Riyad's selection drama, but the batsman was in good mood yesterday and Mashrafe batted for his teammate.
"I think being relaxed is the most important thing," he said. "We have to ensure that Riyad feels pretty relaxed in the team and never feels himself a burden to the team. The form he just had six months ago, If Riyad can show that again in the series, then it will be a huge impact for the team. I believe he will come back strongly and we, the whole team, are helping him to return to his good form"