A war, a life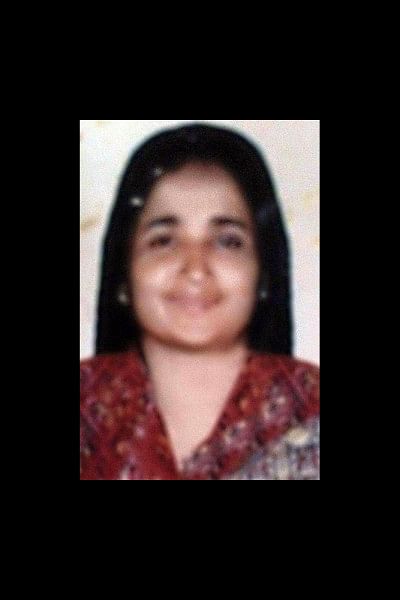 A war is a battle fought by others, where deaths are only piling numbers and the critically injured- someone else's problem. That is the reality of war. We see, we cry, we pay our condolences then we forget. Wartime stories are simply tales until it happens to you. That is when you understand the severity of it and its everlasting consequence. It is said that those gone are better off before the ones who remain behind—there is no end to suffering for them. The scars are too deep, the bruises too blue and the pain too personal. Bangladesh's Liberation War left behind a generation of sufferers, some we know about others we don't. Here is an untold story of one such person.
Momtaz Begum Rani is not famous, nor is she rich or a prominent person of the society. She is an average hardworking woman who toils all day at office and looks forward to spending her evenings with her grandchildren. She seems quite insignificant among the mass, but her untold sacrifice helped shape the birth and future of this independent nation.
Rani, a girl eight years of age, still played with marbles when she was married off to a Tahsildar (union level land officer) in the next village to Motaleb, a man twice her age and the only love of her life.
She still speaks of him today as if he were still alive. Her eyes sparkle and her cheeks flush as she tells us how he taught her math, all the while, with a wide smile drawn over her face. She was after all, a girl still in love.
Motaleb, a martyr and the father of her children, was killed in front of Rani's eyes by the Pakistani army men early on during the Liberation war of Bangladesh in 1971. Like so many others, Rani became a widow at the age of 15 with a one-year old son, Parvez, and an unborn child, Munny.
He did not leave his home to fight for his country, but that did not make him any less of a man or a patriot, she says. Instead he chose to stay behind with his infant and pregnant wife and fight to keep them alive and protect his village. He owned a gun and wasn't afraid to show it when the Razakaars came near the girls in their predominantly Hindu village named Paikerdanga in Gopalganj Sadar. That was probably why he was killed; he was a wall that needed to be demolished.
Rani, my aunt or 'Boromaa' as we all call her, is a bold woman who carries her fate in her hands. She is currently working (soon to retire) as a Senior Assistant Administration Officer in a semi-government office in Motijheel in Dhaka. She lives in a bustling household with her children, grandchildren and her mother. She is famous for her rice puddings and unique bedtime stories.
"Motaleb was telling me a story the day he was snatched away from me", she recalls. They (Pakistani army men led by the Razakaar Momrez Kha) grabbed him by the collar and dragged him out. He had no time to grab his pistol. They took him out of earshot and shouted vaguely in Urdu. Rani was glued to the window pane, frozen. At first they beat him down, not wasting a second for punches and kicks. As he looked up to question their actions, they pointed the gun to his temple and pulled the trigger. Blood spewed everywhere colouring the grass blazing red.
That was it. "My love. My husband. My life."
As she saw the men walk towards her house, she felt two hands pull her away through the backdoor—it was her neighbour, Ramesh, and his mother. A few minutes later they left, burning her memories and her house as they went.
No one in our family speaks much about the year Boro maa lost her sanity. She often questioned her bulging belly and looked for her husband. Sometimes my grandparents had to hold her down or seclude her to another room when she became violent. She has no recollection of her second child being born or the time when her husband was buried.
Doctors told her family she needed a change in lifestyle. So they did as they were told. They drowned her in studies and later got her a job posted in Dhaka. She left her children with her parents and sought to create her life anew.
People die, that is their nature but those who are left behind are the ones who suffer the most. Being an attractive, young working woman in the newly formed patriarchal society was a difficult place to be in without a husband. It automatically made her a prey. She detested when people sympathized her situation by saying it was a 'collateral damage'. One term could not simply describe how her entire world collapsed. Here she was trying to assemble her post-war scattered pieces together.
Bangladesh was still on the brink of developing its own identity and exploring its new found freedom. The war was a necessary good which came with the undesired casualties of countless lives. We all know or have someone who was affected by the war. That is why the scars are too deep, because it wasn't a distant war that happened in another country. This is personal.
"It was very painful when my kids asked about their father. All I could say was he was a hero who gave his life so that thousand others could survive. They thought it was pretty selfish of him, as he thought about hundred others instead of his own flesh and blood. I feared those questions dreading the answers and knowing perfectly well they would not understand," Rani admits.
Along with her daily hurdles at office, society too was cruel to her. It looked down upon her and didn't miss a chance to shame her when it could, for being a lone woman in a big city. Every aspect of her came under question. But she was living a nightmare of her own. Along with being haunted by her memories, she felt the need and longed to be the mother of her children.
So, one by one she brought her four siblings (including my father) and her children to Dhaka. Her world had just begun taking shape. She was not living the life chosen, however it was the life she was slowly creating for herself.
She struggled to make ends meet, now that she had six more members to feed, educate and take care of. She worked twice as hard, crammed in a two bedroom apartment, blissfully lost in her busy life without any complaints, ever.
She had her own personal army by her side. When she had sudden breakdowns, her family was by her side working hard to keep her distracted and stable. She cooked and cleaned and listened to their nagging about increasing their allowances -and she was happy. All that nonsense made all the sense in the world.
When I asked her of the happiest time of her life, she went back to the days when uncle Motaleb was still alive and used to be a special guest at her tea parties, all the while blushing like a teenager. It is as if he is still with her, as a witness of her transformation from a naughty young school girl to a liberated self-made person who signified the epitome of womanhood.
Now, 45 years later she often imagines how her life could have been had he been alive, how her children could have a father instead of a compromised life, how they could have been happier in a different way. If only things were different…