11 hurt in UP polls clash, voting suspended in 5 centres
One jailed for entering polling centre illegally in Ctg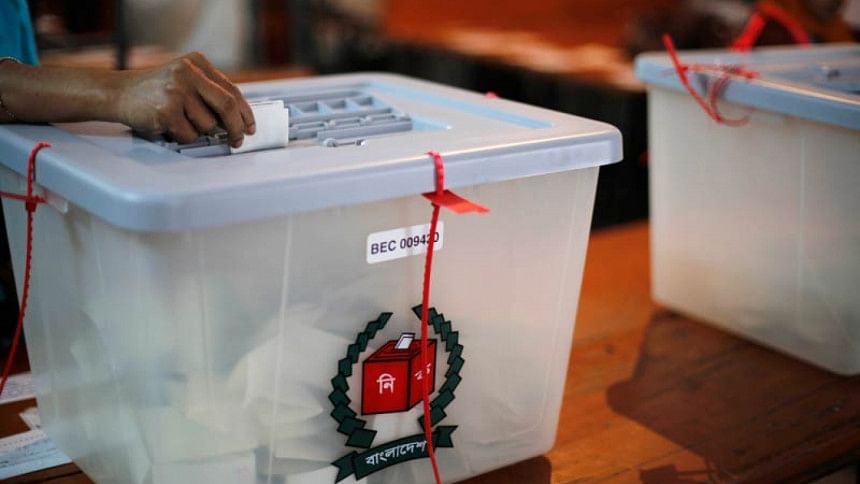 At least 11 people were injured in different violence incidents during the third phase union parishad (UP) elections in Jamalpur and Sherpur districts today.
Meanwhile, voting at five polling centres has been suspended on allegation of capturing the centres and stamping on the ballots forcibly in Chandpur and Laxmipur.
A mobile court jailed a man for entering a polling centre illegally in Chittagong's Fatickchari.
Ten people were injured in a clash between supporters of two member candidates over taking control of a polling centre in Islampur upazila of Jamalpur.
On the other hand, a man was injured when police fired 31 rounds of bullets in three polling centres in two unions of Sadar upazila this morning.
CHANDPUR
Miscreants broke into three polling stations under Gupti union in Faridganj upazila and started stamping on the ballots this morning.
Later, the authorities suspended voting in the centres, including Sreekalia, Nawab Ali High School and Asta Mahamaya High School centres, said Nurul Amin, a presiding officer of Sreekalia polling centre, according to UNB.
Meanwhile, polling in Saisanga Government Primary School centre in the same union was also suspended as a group of miscreants stamped on the ballot papers after storming into it, the private news agency quoted presiding officer Bedar Uddin Khan as saying.
CHITTAGONG
A mobile court sent a man to jail for 72 days for entering to Paindong Arabia Talimul Islam Madrasa polling centre illegally in Paindong union in Fatickchari upazila of Chittagong, said our Chittagong correspondent reports quoting Executive Magistrate Tamim Al Yamin.
Rafique was arrested with Tk 36,300 cash, the correspondent said.
Meanwhile, Idris Mia Ilias, a candidate of Dantpara UP polls, boycotted the election bringing allegation of stuffing ballot papers at least seven to eight polling centres.
Supporters of the ruling Awami League drove out the other parties' polling agents from the centres, Ilias further claimed.
LAXMIPUR
Voting at Sonapur Government Primary School polling centre in Raipur upazila was suspended in Sonapur union on allegation of capturing the centre around 10:45am, UNB reports.
The pro-BNP candidates said their agents were driven out from a number of polling centres, an allegation that the Awami League-backed candidates rejected.
JAMALPUR
A clash took place between the supporters of two member candidates over taking
control of a polling centre in Islampur upazila, leaving ten people injured around 10:00am, Yunus Ali Mia, assistant superintendent of police, Jamalpur told UNB.
Police fired at least seven rounds of bullets to disperse them. However, the voting at the centre was not suspended.
MYMENSINGH
Law enforcers detained an assistant presiding officer for his alleged involvement in casting votes for an Awami League candidate in Nandail upazila of Mymensingh this afternoon.
The incident took place around 3:30pm when the detainee, Nazrul Islam, assistant presiding officer at Kandapara Government Primary School polling center in Rajgati union of Nandail, was casting votes for AL candidate Iftekhar Momtaz Khokon, said Md Ataur Rahman, officer-in-charge of Nandail Police Station.
Nazrul was kept under police custody at the polling center, the OC added.
Earlier, police fired three rounds of blank shots at Nagar Kuchuri Govt Primary School Center in Musulli union of Nandail upazila to disperse ruling party Awami League men around 12:00pm.
The incident took place as AL nominated chairman candidate Iftekhar Uddin Biplob allegedly locked into an altercation with Assistant Presiding Officer Abul Khayer, reports our Mymensingh correspondent reports quoting Md Ataur Rahman, officer-in-charge of Nandail Police Station.
GOPALGANJ
Earlier on Friday night, in Kashiani upazila's Pona village, eight journalists, who came to cover the UP polls there, came under attack by some unknown persons.
"With locally made weapons and sticks in their hands, the group beat the journalists indiscriminately in front of a local hotel," Borhan Uddin, a reporter of Dhakatimes24.com, also a victim, told The Daily Star today.
Names of other journalists who sustained injuries are Habibullah Fahad, Mohiuddin Mahi, Mosaddek Bashir, Habibur Rahman, Tanim Ahmed, Syed Riad and photojournalist Rajib Noor Khan.
Admitting the incident, officer-in-charge of Kashiani Police Station Mizanur Rahman said, "Police rescued the journalists and brought them to the police station."