Police witnessed but didn't act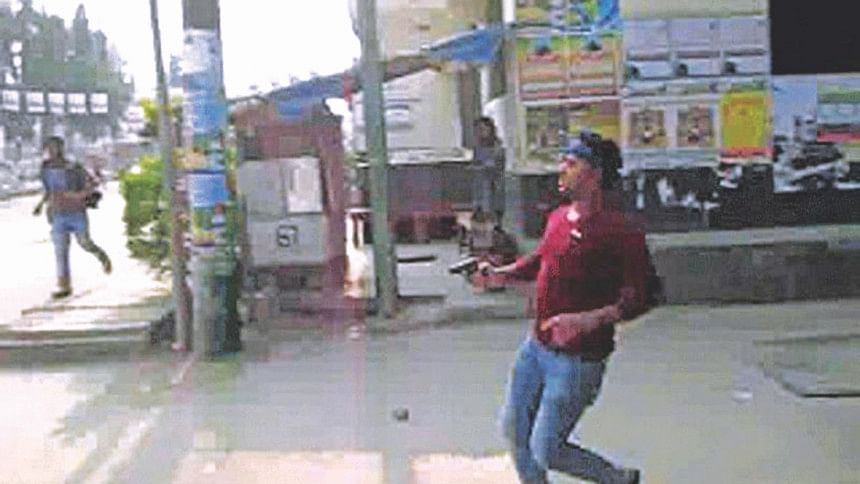 Police played the role of silent spectators at many voting centres when supporters of Awami League mayor candidates prevented voters from entering polling centres, snatched ballot papers and stuffed those in ballot boxes.
Disappointed, many polling officials expressed their inability to stop them as on duty police members were reluctant to take action in the face of high-handedness of the ruling party activists.
However, on duty police officers at most of the polling centres denied this, though The Daily Star correspondents witnessed such police roles at two centres in Patuakhali, five centres in Jessore, two centres at Sitakunda and Raozan in Chittagong, and one each in Magura and Narail.
Meanwhile, the Election Commission had sent a letter to the inspector general of police, requesting him to suspend five sub-inspectors for their alleged negligence in discharging duty at different voting centres.
Sub-inspectors Nazmul Hossain, Alamgir Hossain and Md Solaiman were on duty in Chandnaish municipality of Chittagong, while Abdul Kuddus Sikdar and Sharif Abdur Rahsid were posted at Kalkini municipality in Madaripur, said Shamsul Alam, deputy secretary of the EC Secretariat.
Meanwhile, around 20 to 25 cadres of Chhatra League stormed Mozharuddin Biswas Degree College polling centre in Patuakhali around 9:30am and snatched ballots papers and stuffed those in the boxes
Although police and members of Border Guard Bangladesh were deployed 50 metres off the centre, they did not do anything, voters and witnesses said.
Panicked, voters, including female voters, started running away from the centre.
The rowdy BCL cadres also manhandled at least four journalists who went there to cover the incident of ballot box stuffing. They also tried to snatch cameras from the journalists.
The police and BGB members did not take action in this case as well.
Although our correspondent and some local journalists witnessed it, inspector Milon Mitra, who was posted there to maintain law and order, said he was not aware of such incident.
GM Nazrul Islam, assistant presiding officer of the centre, said he tried to stop the BCL activists, but could not do so as the BCL men threatened him of dire consequences once voting was over.
In Kuakata municipality, some 20 to 25 Jubo League activists snatched ballot papers and seals and stuffed those in favour of AL candidate Abdul Barek Mollah in the ballot boxes at Panchupara Government Primary School polling centre around 9:30am, witnesses said.
"I had nothing to do, I was a victim of the situation," said Presiding Officer Morshed Alam.
Policemen on duty there did not take any action, witnesses added.
As supporters of BNP mayor candidate tried to prevent the Jubo League men from stuffing ballots, a chase and counter-chase took place between them.
Police fired 25 blank shots to bring the situation under control.
Inspector AKM Tariqul Islam who was in-charge there said being informed he went to the spot and disperse the groups.
In Government Primary School voting centre under Jessore municipality, police took no action when the ruling party men took control of the centre and allowed only Awami League men to enter the centre and cast their votes.
The ruling party activists also did not allow any poling agent except their ones thanks to negligence of the on-duty police.
Contacted, Sub-Inspector Sarajeet claimed that the voting was going on peacefully.
Rezaur Rahman, presiding officer of the centre, too said "fair" voting was going on.
Visiting Police Lines School centre, Zila School centre, Abdus Samad Memorial Academy, and MM College centre in Jessore between 9:00am and 4:00pm, our correspondent found policemen taking no action against the AL candidate's supporters who were preventing voters from entering the centre, and were allegedly involved in stuffing ballot boxes.
While the officer-in-charge of Kotwali Police Station was claiming that voting was going on a free and fair manner, a bomb exploded in a nearby polling station just at that time, much to the embarrassment of the OC.
At Zila School Centre, a female agent of BNP mayor aspirant was arrested as she threw a ballot box on the floor, protesting vote rigging. The district's deputy commissioner, superintendent of police and a magistrate were present at the centre at that time.
Talking to The Daily Star, she said she was exasperated when she saw some youths of the age of her son were stuffing ballot papers in front of her.
In Magura Sadar municipality, ruling party activists captured Kadirpara Government Community Primary polling station and started stuffing ballots in front of police members, reports a correspondent.
Contacted, Returning Officer Azim Ahmed refused to comment.
 In Kalia municipality of Narail, police and BGB members were did not do anything when the supporters of the ruling party drove out polling agents of independent candidates and stuffed ballots at all six booths at Purba Kalia Government Model Primary School around 8:30am, reports a correspondent.
On duty policemen at the centre did not comment despite repeated attempts.
Presiding officer Hasanuzzaman admitted that there was stuffing of ballots.
At Gahira Degree College polling centre under Raozan Municipality in Chittagong, policemen allegedly guarded some youths who cast fake votes at a couple of polling booths around 8.15am.