Sust student shot, 2 BCL men expelled
10 suspended
Two BCL men were expelled and ten others suspended after a student of Shahjalal University of Science and Technology (Sust) was shot during a factional clash near campus.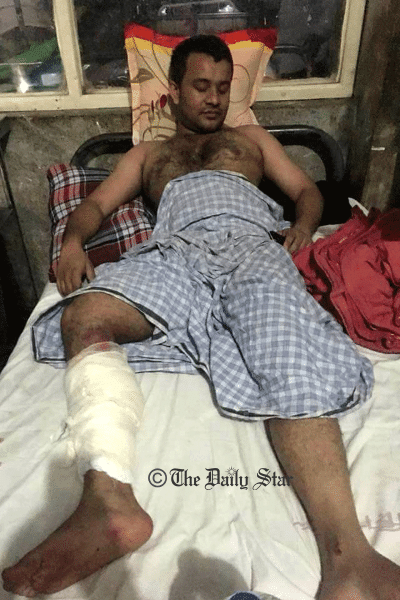 Injured SM Abdullah Rony, a masters student at the department of food engineering and tea technology, sustained a bullet in the leg during the clash last night, our Moulvibazar correspondent reports.
According to what could be obtained, senior leaders of the campus engaged in an altercation near Satkara restaurant, just outside campus, around 10:30pm last night.
Today, Bangladesh Chhatra League (BCL) in a press release expelled Abu Sayeed Akanda and Sajidul Islam Sabuj, both members of BCL Central Committee, for violating the disciplinary code of the party.
Apart from this, BCL vice president of Sust unit Syed Juem, joint general secretary Ashraful Alam and organising secretary Dulon Ahmed were among ten other BCL (Sust) members who were suspended following the incident.
Jalalabad Police Station Officer-in-Charge Shafiqul Islam said, an altercation between two groups of Chhatra League over establishing domination in the area spurred the clash.
Sust's Assistant Proctor Zahiuruddin Ahmed said, a student has been shot in the clash. "We had deployed additional police force as precaution."
Faruque Ahmed, in-charge of Sylhet MAG Osmani Medical College Hospital where the injured student was taken, said, the victim sustained a bullet in the leg and underwent an operation last night.
Chhatra League's campus unit Vice President Tariqul Islam Tarek alleged that he was attacked by followers of Abu Sayeed Akanda during the incident.
Sajidul Islam Sabuj, a central member of Chhatra League who was also involved, branded Tariqul as a drug peddler and a patroniser of Chhatra Dal. "He was engaged in unscrupulous operation when general students caught him. He opened fire on the students."