Detecting cancer in 5 minutes
SUST researchers say they've developed a blood test that can spot the disease for only Tk 500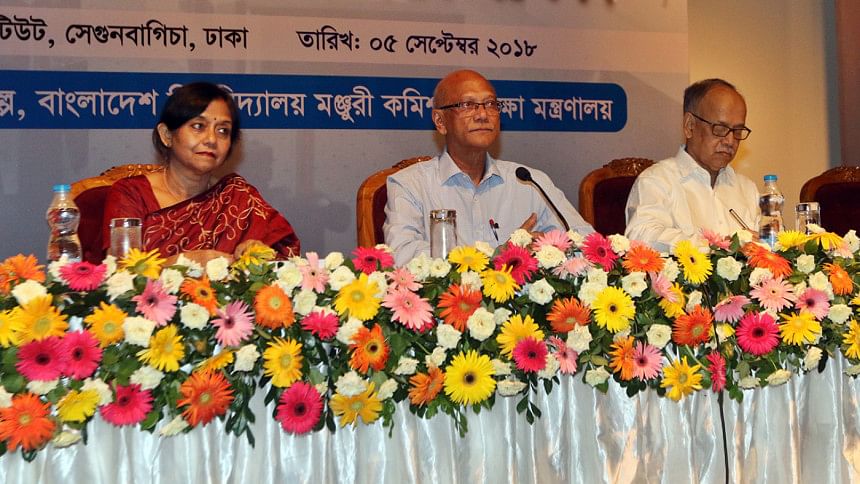 Researchers at Shahjalal University of Science and Technology have found a low-cost method for early detection of cancer.
All they would need is blood samples and a device they have designed for detecting cancer. The device would subject blood samples to intense laser beams and analyse results to detect cancer. The test would take five minutes and cost just Tk 500. 
The team behind the breakthrough is also making a prototype of the device and expects it to be ready next year.
This is the first time in the world that nonlinear optics is being used for diagnosing cancer, said Prof Yasmeen Haque, who led the team, while presenting the details of the technology at a press conference yesterday.
Nonlinear optics deals with the fundamental studies of the interaction of matter with intense light. After the discovery of lasers, this field flourished.
"In a few journals, we have seen detection of glucose or lipid concentrations in nonlinear way, but no one did it on cancer," Yasmeen said.
Prof Yasmeen, a physics teacher at SUST, said they have already applied for patents in the US and Bangladesh for "Method and system based nonlinear optical characteristic of body fluid for diagnosis on neoplasia".
Their applications had been accepted and the process for getting the patents has begun.
The team is part of a programme titled "Innovative Biomarker Detection System Using Nonlinear Optics" under Higher Education Quality Enhancement Project (HEQEP) of the University Grants Commission. It was funded by the government and the World Bank.
At the press conference, organised by HEQEP and the education ministry at the International Mother Language Institute auditorium in the capital, team member Manash Kanti Biswas said when the laser hits the blood sample they pass an intense laser beam through the blood samples, serum, and observe if anything changes. There would be changes only if the person has cancer, he added.
It would take a few seconds to see the changes and around five minutes to get the results, said Manash, an associate professor of physics.
"It is instantaneous," he said, adding that the cancer detection using nonlinear optics method has not been done before.
He said they carried out experiments on blood samples from 40 people -- 30 cancer patients and 10 healthy people -- and the results were spot on.
"We would be able to detect cancer at the earliest," said Manash. If a person comes to know about the disease, he or she could take steps, he added.
The cost of the prototype device would be around Tk 25,000 and it would be a desktop device, he said.
Since 2016, a group of 25 researchers has been working on the project spending Tk 9 crore.
During the research, the university formed a dedicated team and now has a nonlinear optics research laboratory providing opportunities for physicists to conduct optical experiments.
Prof Yasmeen said all technologies related to this research, including the device, had been developed by her team. They even developed a disposable sample holder for Tk 500. They used to import it spending Tk 27,000, she said.
She said the method could be used for detecting other diseases too.
Prof Sharif Md Sharafuddin, another team member, said, "We cannot prevent deaths from cancer as the disease is detected at the last stage. But now maybe we would be able to detect cancer at early stages and therefore reduce the rate of deaths."
Addressing the press conference, Education Minister Nurul Islam Nahid said, "Today is a historic day for Bangladesh … it is a day to be proud."
A person needs to spend Tk 8,000 to Tk 10,000 for cancer diagnosis that takes 5 to 7 days. "But with the new invention, cancer detection will require only a few minutes … ," Nahid said.
This technique has not been tried before, the minister said hoping that this would lead to an entirely new way of investigating cancer.
The researchers said they would go for publications of their method in national and international journals soon.
UGC Chairman Prof Abdul Mannan, SUST Vice-Chancellor Prof Farid Uddin Ahmed, HEQEP Project Director Gauranga Chandra Mohanta, among others, addressed the press briefing.