'N'ganj teacher was forced to sign resignation letter'
Education ministry-formed committee also says a student made inconsistent statements on whether the teacher said anything demeaning religion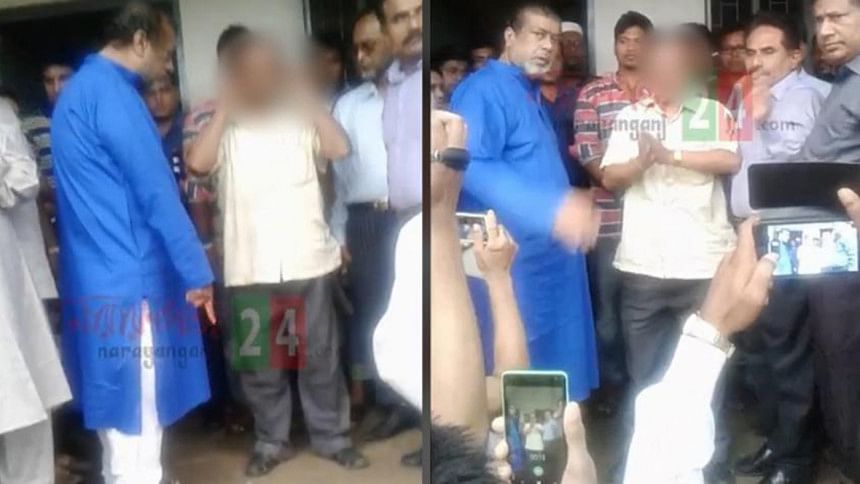 A probe committee of the education ministry has found that committee of Piyar Sattar Latif High School in Narayanganj had forced its headmaster Shyamal Kanti Bhakta to sign a resignation letter.
The committee handed over the probe report to the attorney general's office today for placing it to the High Court (HC).
On May 13, AKM Salim Osman, Jaitya Party lawmaker from Narayanganj-5 constituency, was seen instructing Bhakta to do squats holding his ears. Before that, Shaymal was beaten up by a mob.
The HC, in a suo moto rule on May 18, asked the authorities concerned to report what steps were taken against the perpetrators responsible for humiliation of the teacher.
It was not the end to the teacher's sufferings as the school management committee on May 17 suspended him on the allegation of demeaning religion.
In the report, the probe body said the way Shyamal Kanti was suspended was beyond the relevant rules, and, therefore, he was reinstated to his post.
It said Md Rifat Hasan, the student whose allegedly brought allegation against Bhakta of demeaning religion has made inconsistent statements at different times.
Since Rifat's statements before the school committee and to the media and his mother's statements to some electronic media were found inconsistent, the allegation against the schoolteacher may not be considered acceptable, the report said.
They found a longstanding dispute between the headmaster and the school committee over financial issues.
Deputy Attorney General Motaher Hossain Sazu, who received the probe report from the education ministry, told The Daily Star that he would submit it to the HC on May 29.
He said the officer in charge of Bandar Police Station has filed a general diary in connection with the humiliation of the teacher and investigation is going on into the incident.
Another probe committee has been formed by the Police Headquarters led by additional deputy inspector general of police Mahbubur Rahman to conduct an enquiry into the incident.
Reports on the progress of their probes will be submitted to the HC on May 29 for its consideration, DAG Sazu added.