A teacher has been taught his lesson!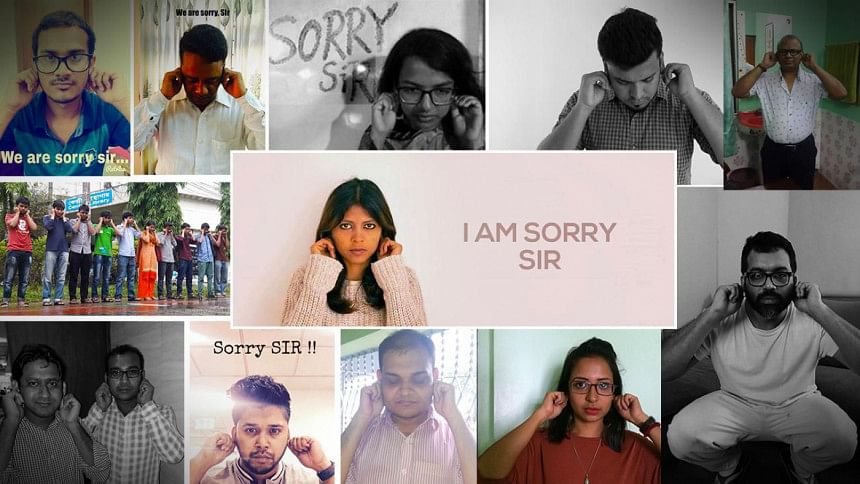 Greek historian Herodotus, living in the fifth century, couldn't have known in advance that a headmaster was going to be humiliated in Narayanganj on the second Friday of May 2016. But when he said that men trusted their ears more than their eyes, it set the standard of mob justice for all time to come. Those who've watched the disgusting video of that outrageous incident couldn't believe their eyes while ears burned with shame. The headmaster was doing earholding sit-ups while an all-daddy lawmaker wagged his finger, keeping count. When the exhausted and embarrassed victim fell on the floor after the third time, he was pulled up to stand on his feet. Then like a mechanical toy, the poor man was made to raise his folded hands to his forehead asking for forgiveness before a hysterical crowd.
Most people who had gathered at the scene had trusted ears more than eyes. Most of them had come to witness the punishment for a crime they had not witnessed. Mob justice is always swayed not by proof but by provocation. 
The foreign media touted it as yet another instance of minority persecution. The teacher being a Hindu man has largely contributed to that apprehension, particularly when religious sentiments are being deployed to do dirty work for devious minds. What happened in Narayanganj was a low-down showdown, when powerful people exploited holy sentiments to settle an unholy score. The family of the student, who was disciplined by that teacher, may have pulled the strings to get even with him. The influential school committee members also saw an opportunity to get rid of him.  
The teacher was allegedly roughed up by the unruly mob before the circus that followed. As far as this victim is concerned, he was already humiliated before the humiliation was recorded on video. The rest of us in this country have been humiliated afterwards. We have been humiliated when the authorities sat on their hands, despite so many outcries across the country, when nothing happened after a number of ministers condemned the act. The final humiliation came for everyone in the final blow of cruelty after the school committee, instead of being repentant and apologetic, went ahead to sack the headmaster.
I would like to plead with this teacher to take comfort in the fact that while he bore the physical brunt of the humiliation, the sensible people of this country have felt the shame. And I ask him not to think he was targeted for his professional or religious denomination. We all live in a country, where the powerful have sadly and perversely taken the powerless for granted.
I can assure him that in any civilised country, the lawmaker would have been arrested, the Parliament would have condemned their rowdy colleague, and the state would have rushed to the protection of the victim and his job. Since none of these has happened until now, he is free to draw his own conclusion. I recommend he should consider this as an option. He should think as if wild animals have badly mauled him in a dangerous jungle.
In shame and despair, human chains around the country had people holding their own ears. It was symbolic, of course, a gesture to express solidarity with the victim and indignation for his embarrassment. One of the limitations of human condition is that it's confined to its own limitations. After initial reactions, this entire episode is either going to taper off or will be forgotten soon.
What will persist is the horror that, in future, will haunt every teacher in every school of this country. Teachers will think twice before taking a student to task, or grading papers, or even assigning homework. They will feel nervous to lance with the school committees, lest their intentions will be taken out of context and brutalised. After all, why should anybody risk their safety and honour if doing a job well should cost them both? 
This isn't to rule out the possibility that the headmaster in Narayanganj could have said or done anything wrong. But the public humiliation of a teacher has mislaid the moral compass, because more than a man was harassed on that day. An entire institution was stripped of its honour, its glory mocked as if neighbourhood kids taunted a raving madman. 
Alexander the Great said he owed his living to his father and his life to his teacher. We grew up ingesting that same value, respecting teachers no less than parents because we knew and still know it for a fact that they've largely made us who we're. The lawmaker in Narayanganj must be holding repressed anger against his teachers. The sit-ups could be a Freudian slip to do unto them what they may have done unto him!
The writer is Editor of the weekly First News and an opinion writer for The Daily Star. 

Email: [email protected].