Nayan Bond killed in 'gunfight' with police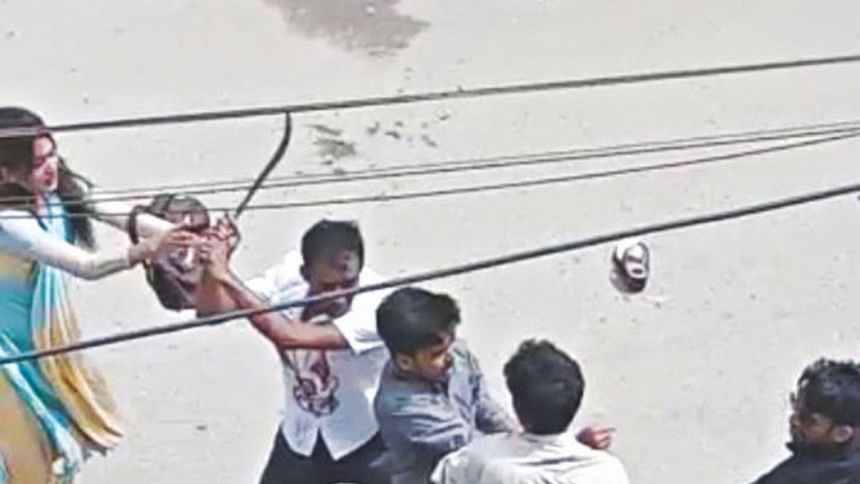 Sabbir Hossain Nayan alias Nayan Bond, one of the two attackers who hacked Barguna youth Rifat Sharif to death in front of his wife in broad daylight, was killed in "gunfight" with law enforcers early today, police said.
A team of Barguna Sadar Police Station conducted a drive to arrest Nayan at Purbo Burirchar near Purkata ferry ghat area around 4:15am, Abir Hossain Mohammad, officer-in-charge of Barguna Sadar Police Station, told our Jhalakathi correspondent.
The policemen came under attack by the gang of Nayan when the lawmen reached the area, the OC said, adding that in response, police fired back to protect themselves, triggering the "gunfight".
The body of Nayan was found after the "gunfight", the police official said.
Four policemen including Additional SP Shajahan Mia, who led the drive, were injured in the incident, he said. Two of them were sent to Barishal as their conditions were stated to be critical, he added.
Police also recovered three sharp weapons, one pistol and three bullets from the spot.
"We heard sounds of gunshots around 4:00am. Later, we went the spot around 5:00 am and saw the body," a villager told our Jhalakathi correspondent.
Rifat's wife grateful
While talking to the correspondent, Rifat Sharif's wife Ayesha Siddika Minni expressed satisfaction over the death of Nayan and said she was grateful to the government and law enforcers.
She said she believes the other perpetrators will be arrested and punished in due time.
What happened to Rifat Sharif?
Earlier on Wednesday, Nayan and Rifat Farajee, along with some others, attacked 25-year-old Rifat Sharif, an internet service provider, with sharp weapons in front of Barguna Government College in front of his wife.
A video clip of the barbaric attack, probably captured on a mobile phone, went viral on social media triggering public outrage, with many condemning the bystanders for not coming forward to save Rifat. His wife Ayesha alone desperately tried to save her husband from the attackers but in vain.
The clip showed that two assailants were hacking Rifat indiscriminately with sharp weapons as Ayesha was trying to hold back one of the attackers.
Fatally injured Rifat was taken to Barishal Sher-E-Bangla Medical College Hospital (BSMCH) where doctors declared him dead.
The doctors found at least eight stab marks in different parts of his body.
A case was filed against 12 people with Barguna Sadar Police Station on the same day the incident took place.
A total of eight people have so far been arrested in the case filed over the murder.