Rifat murder: Charges pressed against Minni, 23 others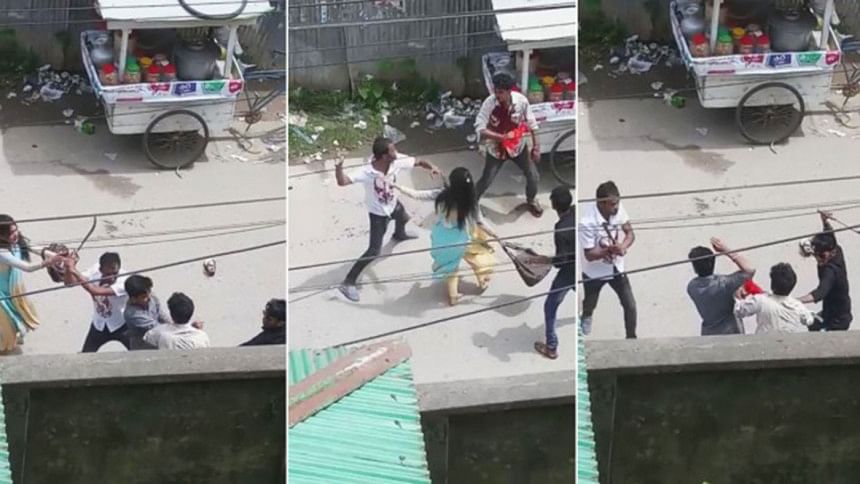 Police today pressed charges against 24 people including Ayesha Siddika Minni in a case filed for killing Rifat Sharif in broad daylight in Barguna town on June 26.
Inspector Humayun Kabir, investigation officer of the case, submitted the charges to the court of Senior Judicial Magistrate Mohammad Sirajul Islam Gazi, said an official of Barguna Sadar Police Station.
Two charge sheets -- one for juvenile and another for adult -- were submitted in the case, several police officials confirmed The Daily Star. Rifat's wife Minni is in the seventh position of the charge sheet pressed against the adults, they said.
The name of the prime accused Sabbir Hossain Nayan alias Nayan Bond has been excluded from the charges as he was killed in a "gunfight" on July 2, six days after the murder of Rifat Sharif, according to a press release of the superintendent of police in Barguna.
Rifat Farazi, a close accomplice of Nayan Bond, Rishan Farazi, Musa, Arian Srabon, Ratul Shikder, Symoon, Chandon, Mohiminul, Rifat Howlader, Tiktok Ridoy, Ryhan, Sagor, Rabbi Akon and Tanvir Hossain are among the charge sheet accused.
The names of the other accused could not be learnt immediately.
HOW WAS RIFAT MURDERED? 
Rifat Sharif, 25, an internet service provider, was hacked to death in broad daylight in front of Minni's college in Barguna town on June 26.
In the CCTV footage of the incident, Minni was seen screaming and trying to save her husband from the attackers.
Rifat's father filed the murder case with Barguna Sadar Police Station against 12 people on the day of the incident. The prime accused in the case, Nayan Bond, was killed in a "gunfight" with police on July 2.
Police arrested Minni after a daylong interrogation on July 16. A court placed her on a five-day remand the following day. Three days later, a Barguna court recorded her statement.
On August 29, the High Court granted bail to Minni, wife of Rifat Sharif, on conditions that she cannot talk to the media and she will remain in her father's custody.
If Minni breaches the conditions, her bail will be cancelled, the court said while delivering the verdict on her bail petition.