Court turns down Minni's bail petition
For the first time she has legal representation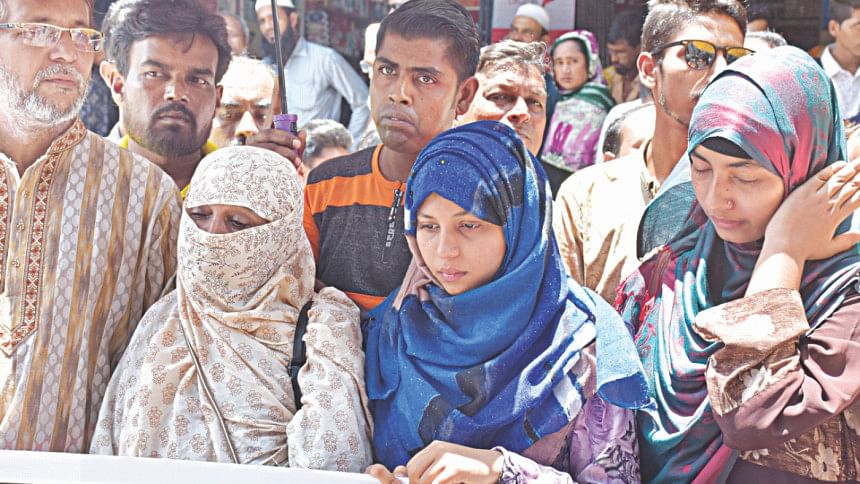 A Barguna court yesterday rejected the bail petition of Aysha Siddika Minni in a case filed over the murder of her husband Rifat Sharif.
Senior Judicial Magistrate Sirajul Islam Gazi passed the order after hearing the bail petition filed by Barguna District Bar Association General Secretary Mahbubul Bari Aslam on behalf of Minni.
"We expected that the court would grant her bail, but that did not happen. We will soon go to the higher court [Barguna District and Sessions Judge's Court] for her bail," Aslam told The Daily Star.
Minni was not produced before the court. 
Mojibul Haque Kislu, counsel for Rifat's father Abdul Halim Dulal Sharif who filed the murder case, said the court rejected the bail petition, mentioning several grounds including Minni's statement before a magistrate. 
A group of lawyers from rights organisation Ain O Salish Kendra and Bangladesh Legal Aid and Services Trust also stood for Minni at the hearing.
This was the first time, Minni, the key witness to the daylight murder, had legal representation in court. No lawyer stood for her when police produced her before the court, seeking her remand on July 19.
Twenty-five-year-old Rifat, an internet services provider, was hacked to death in broad daylight on June 26 in Barguna town. A video footage of the incident shows Minni trying in vain to save her husband from the attackers.
The prime accused, Sabbir Hossain Nayan, also known as Nayan Bond, was killed in a so-called gunfight with police on July 2 in Barguna.
Police have so far arrested 15 suspects, including Minni who was made an accused during the course of the investigation.
Minni, a student of Barguna Government College, was arrested on July 16 following a 13-hour questioning at Barguna Police Lines.
Police claimed she admitted her link with the attack on her husband, whom she had married just months ago.
Her father Mozammel Hossain, however, claimed his daughter gave the statement under duress.
Yesterday, the court sat at 11:15am and the hearing continued for about half an hour. Minni's father Mozammel and Rifat's father Sharif were present there.
Talking to reporters later, Mozammel said those who created "Nayan Bond" are trying to divert the case.
He claimed that he was feeling insecure and could not move freely.
Contacted, Abir Mohammed Hossain, officer-in-charge of Barguna Police Station, said police will give Mozammel protection if he feels insecure and seeks protection.
SATURDAY'S MEETING
Minni's lawyer Aslam, Barguna District Bar Association President Abdur Rahman Nantu and Assistant Public Prosecutor at the Senior Judicial Magistrate's Court Aktaruzzaman Bahadur met local lawmaker Dhirendra Debnath Shambhu at his chamber on Town Hall road on Saturday night.
The meeting lasted for about an hour, said sources.
Asked, Aslam said he and Rahman often meet the MP for association-related issues.
Sometimes, the MP invites them to meetings, he said.
"The MP called us last night [Saturday night]. When we went to his [Shambhu] chamber, we saw his son Sunam Debnath and the assistant public prosecutor [Aktaruzzaman] there. We talked about a different issue and there is nothing wrong here," said Aslam.
"There was no discussion on the [Rifat murder] case at the meeting," he claimed.
Despite repeated attempts, this newspaper could not reach Shambhu for comments.
SPEEDY TRIAL DEMANDED
At a press conference at Barguna Press Club yesterday noon, Rifat's father Sharif demanded speedy trial of the murder case.
Later, he and his relatives formed a human chain in front of the press club, demanding capital punishment of the killers.
[M Jahirul Islam Jewel and Sohrab Hossain contributed to this report]