Rifat murder: Minni in Dhaka to take legal advice from her lawyer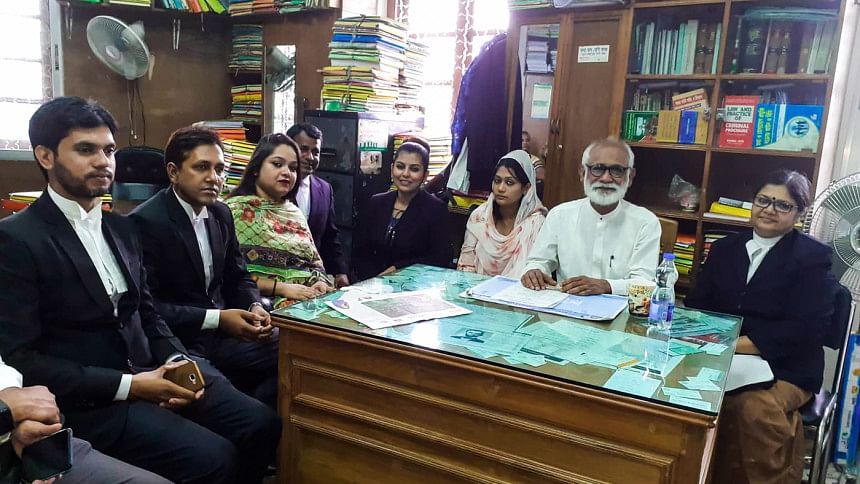 Ayesha Siddika Minni, an accused of a case filed over the murder of her husband, today met her lawyer advocate ZI Khan Panna to take legal advice at his Supreme Court Bar Association Chamber in Dhaka this morning.
She along with her father went to the lawyer's chamber to consult about the case against her.
However, Minni did not talk to media as the High Court (HC) while granting her bail on August 29 gave conditions that she cannot talk to the media and she will remain in her father's custody.
After the meeting, ZI Khan Panna told reporters that Minni came to Dhaka from Barguna in order to take legal advice from the lawyer about the case and also to visit doctors.
The lawyer claimed police has submitted a fabricated charge-sheet in Rifat Sharif murder case implicating Minni.
Rifat, 25, an internet service provider, was hacked to death in broad daylight in front of Minni's college in Barguna town on June 26.
In the CCTV footage of the incident, Minni was seen screaming and trying to save her husband from the attackers.
Rifat's father filed the murder case with Barguna Sadar Police Station against 12 people on the day of the incident. The prime accused in the case, Nayan Bond, was killed in a "gunfight" with police on July 2.
Speaking at a press conference in his office on July 18, SP Maruf Hossain said they arrested Minni as they found her link with the murder.