National Professor Anisuzzaman no more; test result shows he was Covid-19 positive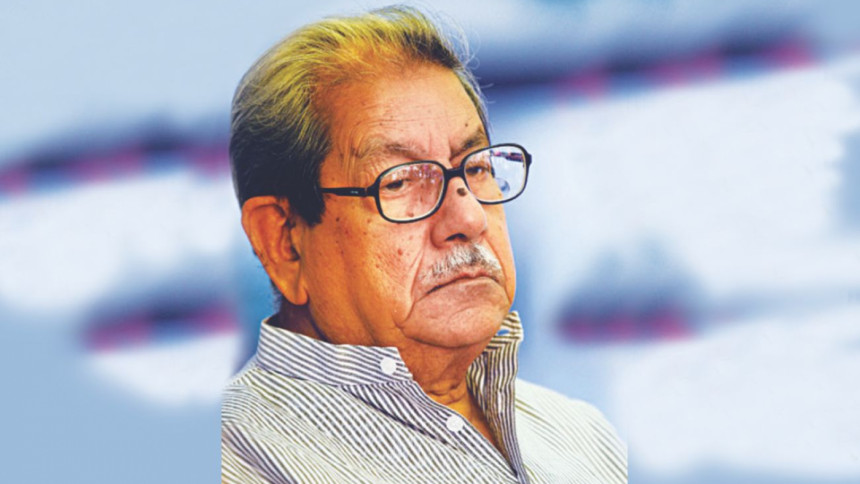 National Professor Anisuzzaman passed away this afternoon at Combined Military Hospital in Dhaka, his son Ananda Zaman has confirmed.
"My father died at 4:55pm," Ananda told this newspaper.
His samples had been collected for Covid-19 test and it came positive, Ananda confirmed to The Daily Star this evening. The professor's body will be handed over to family members tomorrow morning and his funeral will be conducted following the health guidelines in place.
On April 27, the Dhaka University Professor Emeritus was admitted to Universal Medical College Hospital after he fell seriously ill.
He was shifted to CMH on May 9, as his condition was not improving. Apart from heart problems, the 83-year-old eminent educationist had been suffering from kidney and lungs complications, and respiratory problems, according to his son.
Prof Anisuzzaman, one of the most prolific essayists of the country, was previously hospitalised for one week in the beginning of April.
The academic, who made an immense contribution to Bangla language and literature through his research and writings, is survived by two daughters, a son and his wife.
One of the leading intellectuals of the country, Prof Anisuzzaman, a Dhaka University Bangla department alumnus, taught at Dhaka and Chittagong universities, was a post-doctoral fellow at University of Chicago, and a Commonwealth Academic Staff Fellow at University of London.
He was also associated with research projects of United Nations University. He was a visiting fellow at University of Paris, North Carolina State University, University of Calcutta, and a visiting professor at Visva-Bharati of India.
He was awarded Ekushey Padak and Swadhinata Padak, the highest state awards given by the Bangladesh government, for his contribution to education.
The Indian government had awarded him Padma Bhusan, the country's third highest civilian honour, for his distinguished service in fields of Bangla literature and education.
Born in Kolkata in 1937, Prof Anisuzzaman and his family shifted to Bangladesh soon after the partition in 1947.
His scholarly work in Bangla literature, selfless love for his country and contribution as a professor remain a source of inspiration to all generations.
Anisuzzaman not only preached theories in the classroom, but he was also a soul-searching researcher of Bengali culture, language and literature. His research into the reflection of the Muslim mind in 19th century Bengali literature and into pre-19th century Bengali prose were groundbreaking.
Anisuzzaman played a significant role by actively participating in all democratic movements -- from the Language Movement of 1952 to Liberation War in 1972, for the restoration of democracy in Bangladesh in the 1980s, and for the trial of war criminals later. He appeared as a witness before the International Crimes Tribunal. He remained a champion for the cause of secularism.
He was a member of the Planning Commission of Bangladesh during the Liberation War and a member of the National Education Commission set up by the government after independence. He was a pivotal figure in translating the Constitution of Bangladesh in Bangla in 1972. He also served as chairman of the Trustee Board of the Nazrul Institute and also was the president of Bangla Academy from 2012 till the last day of his life.
His publications include Muslim-manas O Bangla Sahitya, Swaruper Sandhane, Purono Bangla Gadya, Amar Ekattor, Bangali Nari: Sahitye O Samaje, Kal Nirabadhi, Ihajagatikata O Anyanya, Bipula Prithibi; Factory Correspondence and other Bengali Documents in the India Office Library and Records; Creativity, Reality and Identity; Cultural Pluralism and Identity, Religion and Recent History.