Laxmipur sees high yield of betel nuts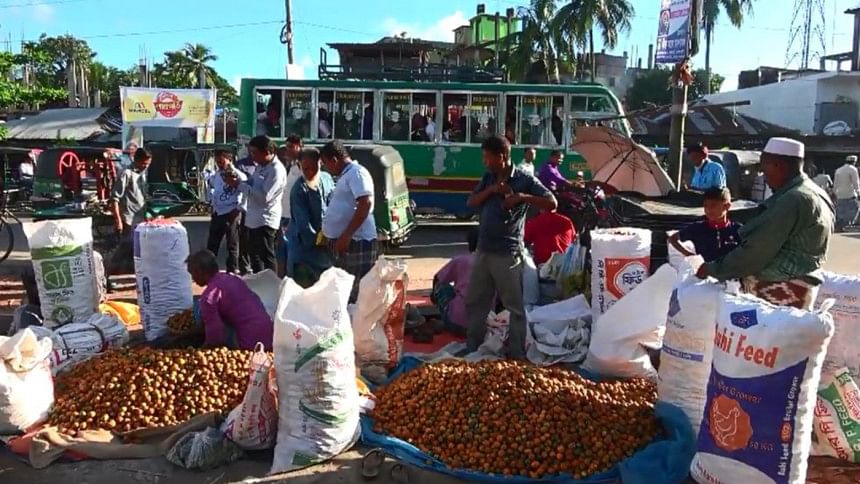 Favourable weather conditions and timely support from the agriculture department contributed to better harvest of betel nuts in Laxmipur this year. 
The increase in production is enabling Laxmipur's betel nut farmers make a good profit by meeting the rising demand in other districts across the country too.
According to Kumar Majumder, additional deputy director of Department of Agricultural Extension (DAE) in Laxmipur, betel nut production in Laxmipur is rising each year.
This year alone, 13.55 thousand tonnes of betel nuts, with an estimated value of around Tk 350 crore, were produced on 6.8 thousand hectares of land in five upazilas of the district, he added.
Local farmers could benefit more and a good number of jobs could be created if the full potential of the high yield of betel nuts was tapped by setting up betel nut processing units and other similar factories in the region, said locals and traders in the sector.
With betel nut farmers reaping a good harvest this year, Haidarganj Bazar in Raipur upazila -- the biggest wholesale market of betel nuts in the district -- is seeing financial transactions worth crores of taka on the two days the market is open each week.   
Other regional markets including Dalal Bazar, Rakhalia Bazar and Mandari Bazar in Sadar upazila and Hajirhat Bazar in Kamolnagar upazila were also abuzz with farmers and traders. All of them also seemed happy as the prices are better this year. 
Milan, a farmer from Laharkandi villager in Sadar upazila, said, "Compared to other crops, the production cost of betel nuts is lower and it contracts less disease."
He also said he was happy with the price this year.
Another farmer, Jamal Hossain from Char Ababil village Raipur upazila, said, "Production this year has been much better than last year's -- thanks to good weather and timely rain. Support and advice provided by agriculture department officials also helped immensely."
A number of traders this correspondent spoke with at Dalal Bazar said they were getting good prices this year and they expected the prices to rise further. 
As opposed to Tk 1,500 to Tk 1,600 for each maund of betel nut last year, they were able to sell the same for Tk 1,800 to Tk 2,000 this year, they also said.
Betel nuts produced in Laxmipur are in high demand in Dhaka, Chattogram, Cumilla, Rangpur, Mymensingh, Sylhet and other districts across the country, said trader Kamrul Hossain whose business is based in Rakhalia Bazar of Sadar upazila. "Our produce [betel nut] is of high quality. That's why it has a huge demand in other districts."
Trader Alamgir Hossain from Cumilla was seen buying betel nuts at Dalal Bazar. He said, "Taste of betel nuts produced in this region is unique. And that's the reason why I travelled such a distance to buy it from here."