Biswa Ijtema begins on Turag bank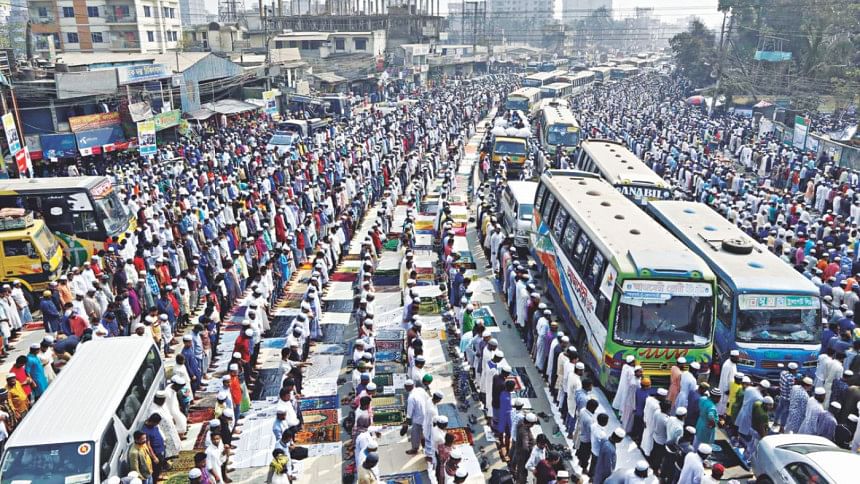 Biswa Ijtema, one of the largest congregations of Muslims, began on the banks of Turag in Tongi after Fazr prayers yesterday.
Devotees from home and abroad thronged the Ijtema ground to attend the four-day congregation.
Yesterday, they offered Juma prayers conducted by Maulana Zubair Hassan, the imam of Kakrail mosque in Dhaka.
Having been held in two phases since 2011, this year's Ijtema will have a single phase, with two separate Akheri Munajat (final prayers) supposed to be conducted by the leaders of two Tabligh Jamaat factions.
Maulana Zubair, who leads one of the factions, is administering the first two days of the Ijtema and will conduct the Akheri Munajat today.
Syed Wasiful Islam, who leads the other group that follows Indian preacher Maulana Saad Kandhalvi, will supervise the last two days and conduct the Akheri Munajat.
Yesterday, many devotees joined from morning to offer Juma prayers. As the main Ijtema ground already filled, many had to take position on adjacent Dhaka-Mymensingh highway, and roads, halting vehicular movement for a while.
Abdullah Al Mamun, a devotee from Mymensingh's Trishal, said he offered Juma prayers on the ground on several occasions.
"This year, I came here from home, starting my journey at dawn. I hadn't had to face much traffic hassle," he said.
Among others, State Minister for Religious Affairs Sheikh Mohammad Abdullah offered Juma prayers at the Ijtema venue.
Halim-uz-Zaman, station master of Tongi Railway Station, said due to Ijtema, all trains would stop at the station on February 16 to 18. Some trains would stop on February 19 for carrying the devotees.
Gazipur Metropolitan Police Commissioner YM Belalur Rahman said watchtowers and closed-circuit television (CCTV) cameras were set up at the venue to ensure security.
He added that vehicular movement near the Ijtema ground would be limited till the end of the congregation.
Beside security measures, adequate number of traffic police has been deployed for a hassle-free journey of the devotees, said Ruhul Amin Sarkar, assistant commissioner (media) of GMP.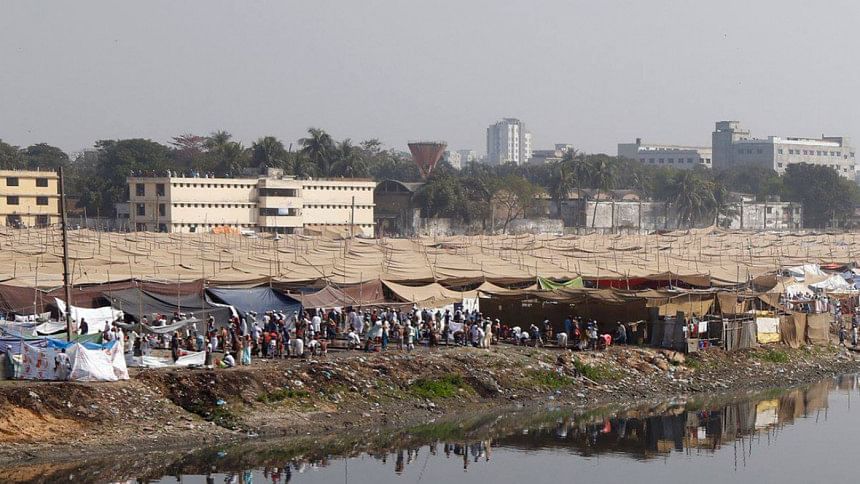 Meanwhile, some organisations, including Gazipur City Corporation, Zahirul Islam Medical College Hospital, Bangabandhu Unani Ayurvedic, Hamdard, Ibn Sina, and Jamuna Bank Foundation are providing free medical treatment on the ground.
On February 5, the state minister for religious affairs extended the duration from three days to four days after holding a meeting with the two groups.
Initially, the Ijtema was scheduled to be held in two phases, with the first one from January 11 to 13 and the second one from January 18 to 20.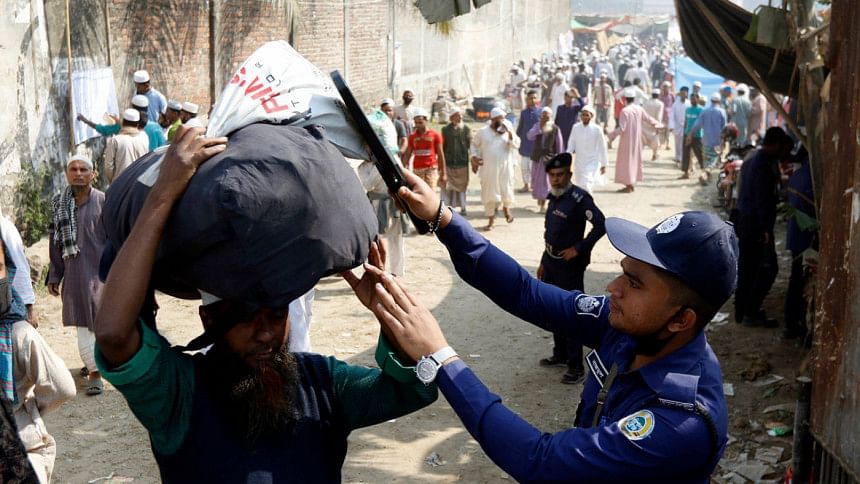 Meanwhile, two devotees died at the Ijtema venue yesterday.
Shafiqur Rahman, 55, of Feni, Sirajul Islam, 65, of Kushtia, died of cardiac arrest, said a physician at the venue.
With the two, the death toll at the Ijtema venue has risen to four this year.
Emdadul Haque, officer-in-charge of Tongi Police Station, said there was a loud bang from a gas stove around 10:00am, and devotees started running in panic, thinking that a gas cylinder exploded. 
At least 20 devotees were injured and were given treatment at the Ijtema ground, he added.