Ijtema Phase 2: Akheri Munajat today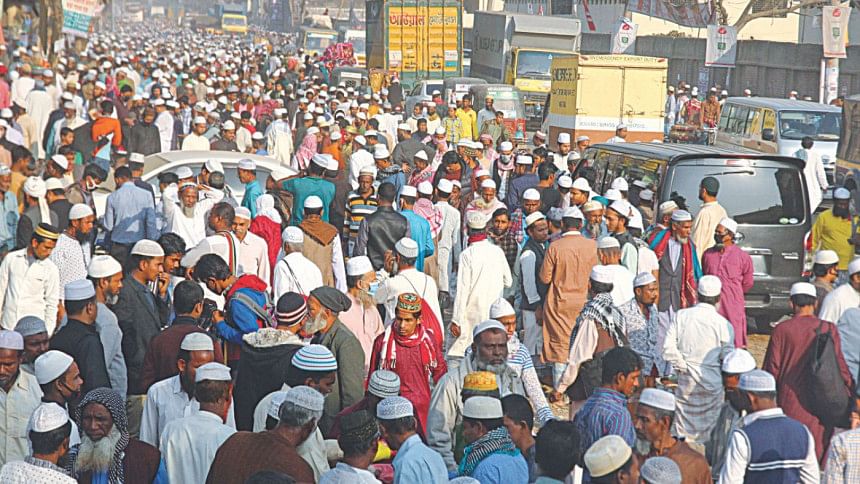 The second phase of the Biswa Ijtema, the second largest congregation of the Muslims, ends today with Akheri Munajat or final supplications seeking divine blessings for people and the Muslim Ummah.
Hafez Mohammad Zobayer, imam of Kakrail Mosque in the capital, is expected to lead the supplication, which is scheduled to begin at 10:00am. The Munajat would be offered in both Bangla and Arabic.
Hundreds of thousands of devotees from home and abroad would raise their hands and pray for peace and prosperity.
The three-day final phase started on Friday on the banks of the Turag river in Tongi. This year's first phase concluded with Akheri Munajat on January 14.
The Tabligh Jamaat has been organising the annual congregation since 1946.
The second day began with delivery of sermon by Maulana Mohammad Hossain of Bangladesh after Fazr prayers yesterday. Sheikh Ismail of Saudi Arabia and Maulana Zakir Hossain of Bangladesh gave sermons after the Zohr prayers.
Bangladeshi scholars Maulana Rabiul Haque and Maulana Zobayer delivered sermons respectively after Asr and Maghrib prayers.
Two devotees have meanwhile died during the second phase. They are identified as Mobarak Hossain alias Mohor Ali, 65, of Jamalpur and Shahidul Islam, 56, of Keraniganj in Dhaka.
Chitta Ranjan Das, a physician at Tongi Government Hospital, said the two devotees died due to old-age complications and breathing problems. In the first phase, five devotees including a Malaysian died.
Around 4,500 foreigners from 80 countries and several lakh local devotees from 14 districts took part in the second phase, said Gazipur Deputy Commissioner Dewan Muhammad Humayun Kabir.
ROAD DIVERSION
The stretch of Chandra intersection to Tongi Bridge on Dhaka-Mymensingh highway would remain closed today due to the Akheri Munajat, said Superintendent of Police in Gazipur Harun-ur-Rashid.
Besides, the stretches of Majukhan Bridge to Station Road and Kamarpara Bridge to Munnu Textile Mill Gate on Kaliganj-Tongi Road would also be off limits, the SP said at a briefing yesterday.
He added 15 shuttle buses would carry devotees from Bhogra intersection to the Ijtema ground. Moreover, 19 special trains would also ply to carry the devotees and inter-city trains would stop for two minutes at Tongi Railway Station.
Six waterbuses are also set to carry the devotees from Narayanganj and Sadarghat to Tongi.
Vehicular movement towards the Ijtema venue from Tongi Nimtoli crossing, Kamarpara Bridge, and Bhogra Bypass areas remained off limits since midnight today.
However, vehicles would ply from Bhogra towards Konabari and Chandra.
Next year, the first phase is supposed to take place on January 11-13 and the second phase on January 18-20, said Engineer Gias Uddin of Tabligh Jamaat.