Death warrants issued for Mufti Hannan, 2 others
Hannan to seek presidential mercy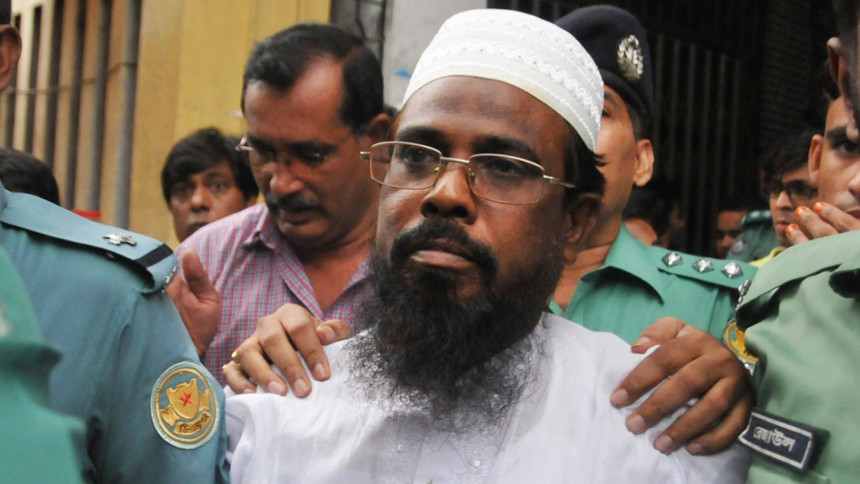 Sylhet Divisional Speedy Trial Tribunal issued death warrants for death row criminal Huji chief Mufti Abdul Hannan and two others today, a day after the Supreme Court released the full text of its verdict upholding his death penalty.
Sagir Mia, senior jail super of Sylhet Central Jail, told The Daily Star that they received the copies of death warrants from Sylhet Divisional Speedy Trial Tribunal around 6:15pm.
"We forwarded the copies of the warrants to Kashimpur High Security Jail as two convicts including Hannan were kept in the jail," he said.
Later, the death warrant was read out to Ripon, one of the death row convicts, our Sylhet correspondent reports quoting the jail super. After hearing the death warrant, Ripon wished to talk to his lawyers and meet his family members, the jail official said.
READ ALSO: Execution of Mufti Hannan: Date to be fixed by jail authorities
Earlier in the day, Hannan opted to seek presidential clemency after a copy of the verdict was read out to him in Kashimpur jail.
"The copy of the verdict was read out to Mufti Hannan. He told us that he would file mercy petition to the president," Mizanur Rahman, senior jail superintendent of Kashimpur High Security Jail, told our Gazipur correspondent today.
The jail authorities could execute their death sentences after 21 days and before 28 days from yesterday, under Provision 991 (VI) of the Jail Code. 
In 2004, then UK envoy Anwar Chowdhury, who was born in Bangladesh, and 70 others were injured in the attack at the shrine of Hazrat Shahjalal (RA) in Sylhet. Three people, including a police official, were killed.
On December 23, 2008, the Sylhet Divisional Speedy Trial Tribunal sentenced Mufti Hannan, Bipul and Ripon to death. Two other members of the banned militant outfit were sentenced to life in jail. They are Muhibullah alias Muhibur Rahman alias Ovi and Mufti Main Uddin alias Abu Zandal.
READ MORE: Last legal bar to execution goes
On February 11 last year, the HC confirmed the capital punishment for the three and upheld the life sentences of Ovi and Abu Zandal.
On December 7 last year, the SC upheld the death penalties of Hannan, Bipul and Ripon.
The trio filed petitions for reviews on February 23 this year.