Huji now raising funds through robbery: DB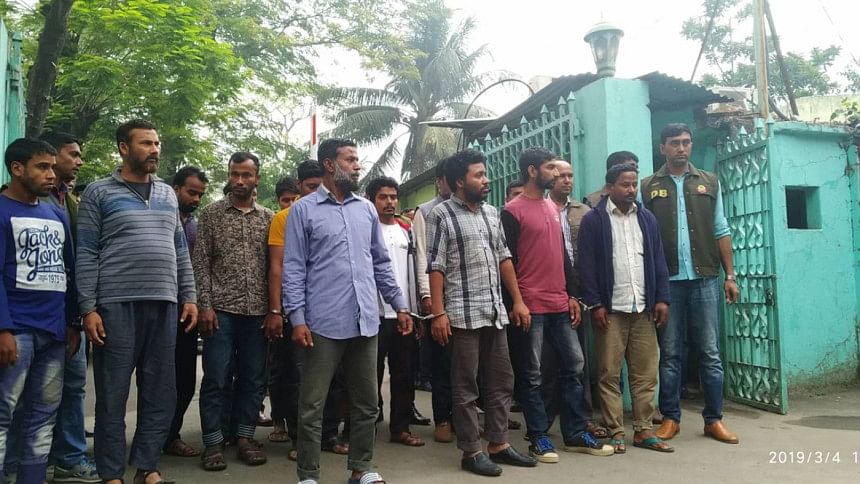 Banned militant outfit Harkat-ul-Jihad Bangladesh (Huji) had been engaged in fund collection through robbery to reorganise itself and free a death row inmate either by ambushing a prison van or attacking a jail, police said.
As part of its plan, the outfit joined hands with a robbery gang more than one and a half years ago. It supplied arms to robbers and took 30 percent of looted money in return, said Abdul Baten, additional commissioner of the Detective Branch of Dhaka Metropolitan Police (DMP).
He was speaking at a press briefing at the DMP media centre yesterday, hours after the arrests of two Huji leaders and 12 members of the robbery gang in the capital's Jatrabari and Rampura areas.
Detectives also recovered an AK-22 rifle, two pistols, 10 kg gun powder, Tk 3.5 lakh and some local sharp weapons and equipment from their possession.
"The gang has so far amassed around Tk 5 core by committing at least nine robberies in different districts. The militant outfit took 30 percent of the money," Baten said.
Apart from reorganising itself, the Huji uses the looted money for collecting arms and ammunition, fighting legal battles in courts for its leaders and supporting the families of Huji men now in jail, according to detectives.
Mohammad Ujjal, who was handed capital punishment in the August 21 grenade attack cases, had planned the whole process at Kashimpur Central Jail. His fellow militants were supposed to free him by ambushing a prison van on his way to a court from the jail or attacking the prison, DB officials said, adding that they were investigating how a convict on death row communicated with his fellow militants. 
Although this was the first time the Huji's involvement in such robberies coming to surface, collection of fund by militants through robbery is nothing new. The Special Branch of police, which keeps an eye on the activities in prisons, had tracked down the militants and the robbery gang several months ago and shared their intelligence with detectives which led to the arrests on Sunday night.
Earlier, Jama'atul Mujahideen Bangladesh (JMB), another banned militant outfit, adopted a similar strategy for collecting fund. The militant outfits tried to legitimise robbery saying that sin would be forgiven if a percentage of the looted money was spent for the "welfare of Islam", law enforcers said. 
Nazmul Hashan, assistant commissioner (Demra Zone) of DB, who led Sunday's drive, said the gang had committed most of the major robberies that had taken place across the country in the last one and a half years.
"The gang members are technically sound. They destroy their mobile phones and SIMs after committing a robbery to avoid arrest," he told The Daily Star.
According to DB officials, the arrestees admitted that they had looted Tk 76 lakh from the office of a multinational company in the capital's Malibagh around seven months ago. A robbery attempt at the Mymensingh office of another multinational company was foiled by police on January 13. A cop was injured when the robbers opened fire at law enforcers to flee.
The two arrested Huji men are Hafiz alias Khalid alias Ibrahim, and Mamunur Rashid alias Bachchu Molla. Detectives said Hafiz, a former madrasa student, is the son-in-law of Abdur Rahamn, another Huji leader and close aide of Ujjal. 
Apart from supplying arms to other robbery gangs, the two used to gather information about possible targets and share it with the gang members. Only one or two arrested robbers knew about the militant outfit and its aim and the others used to follow the commands of their leaders.
The arrested robbers are Mofazzal Hossain, Jahiruddin Bhuiyan, Atikur Rahman, Moniruzzaman, Laddu, Kaium Sikder, Alauddin, Khosruzzaman, Jahangir, Subrata, Mintu and Oliullah.
Moniruzzaman had served at least five years in jail in a neighbouring country in a robbery case. He bore treatment cost when an eye of Jahiruddin was damaged due to mass beating during a robbery incident, DB officials said.
Three cases were filed against the arrestees with two police stations in the capital yesterday.
Later, a Dhaka court placed the 12 on remand after they were produced before it.