Many struggle with unemployment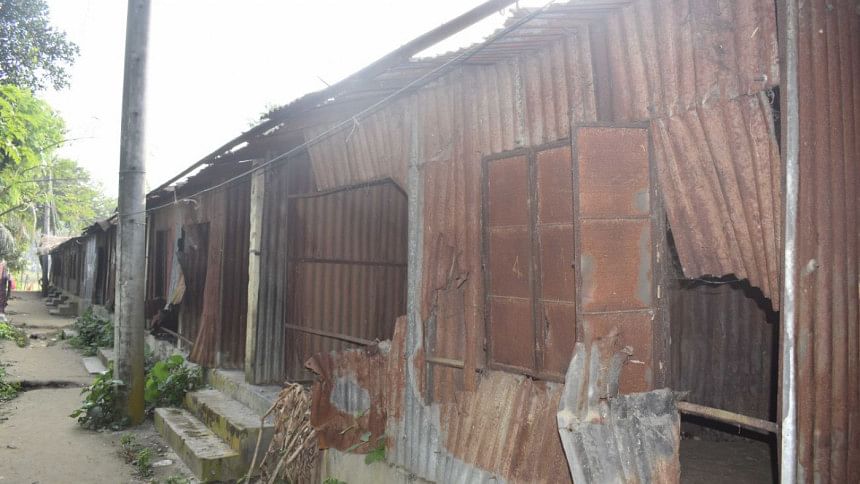 When the ashrayan public housing project was developed on four acres in Shailkuria village in Laohati union of Tangail's Delduar upazila between 2000 and 2006, many homeless families in the area breathed a sigh of relief. Eventually around 100 families were allocated barrack-style tin homes in the project, and they thought the future looked bright. Eleven years on, many are unemployed and struggling to survive.
"I earn a little by repairing old locks and umbrellas in several markets," says Gendu Sandar, 76, the general secretary of the project's residents' committee. "At the project we just got sheds to live in, but there wasn't any other help provided: no pension cards for the disabled, elderly or widows, no other benefits."
He states that many of the homes are now in a dilapidated condition thanks to a lack of maintenance. "Water leaks through many roofs," he says. "One of the homes was damaged by fire about two years ago. So far it hasn't been repaired."
Gendu is one of the lucky ones, since he has some work. "I got used to hardship," says another project resident, Korom Uddin, 70. "I have no assistance from anybody; I know what it is to live without work, without food."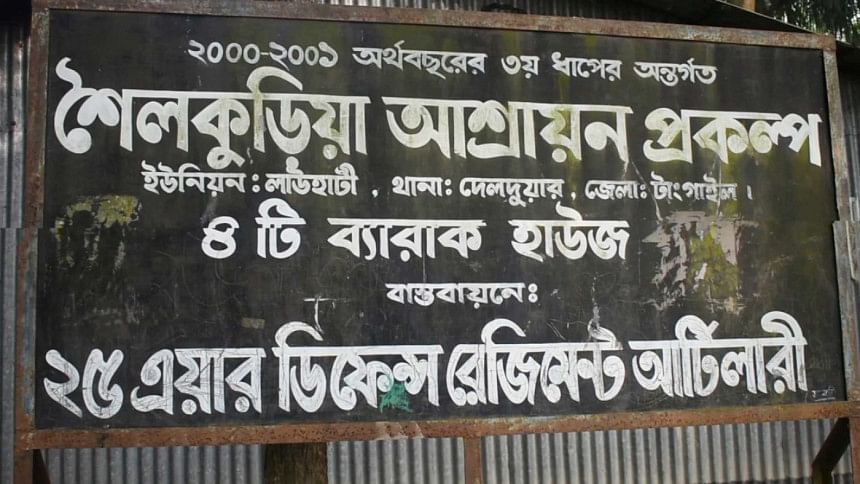 The original four of the ten housing blocks were constructed by the 25 Air Defence Artillery Regiment, under the upazila administration's supervision. Six more blocks were later built by the 11 RE Battalion.
While the residents are grateful, for most the only employment opportunity available is day labour, which is unpredictable, especially during periods of inclement weather when their income falls to zero. Several visually impaired residents meanwhile live by begging.
To add to their hardship, the connecting Laohati to Pakulla Road is also in very poor condition. During the rainy season a boat is required to cross a river to reach many job opportunities, while in the dry months a bamboo bridge serves the purpose.
Sanitary latrines and tube wells are also required at the project.
"At times of elections local representatives visit us in search of votes," says the residents' committee president Anis Miah, "but later we are forgotten."
The newly-joined upazila nirbahi officer in Delduar, Sabina Yasmin, told local journalists that she will look into the matter soon and arrange the necessary support for residents.