Life-term convict flees from police custody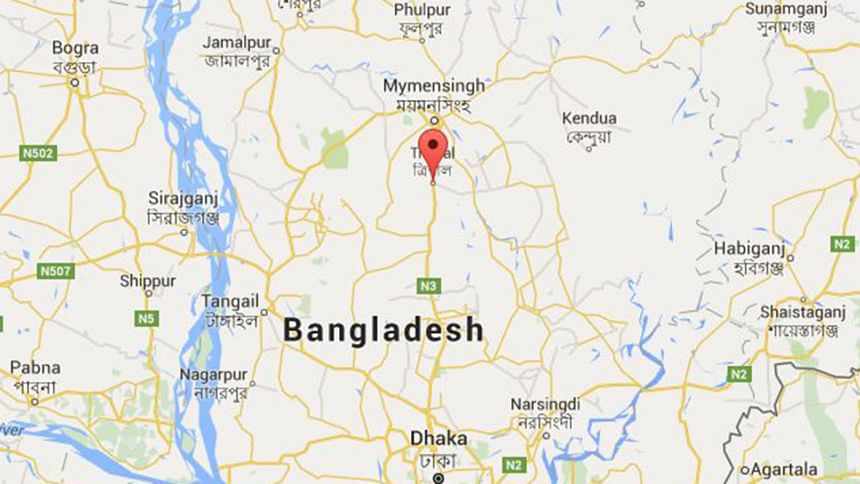 Wearing hand-cuffs and shackles, a life-term convict fled away from police custody by jumping off a Mymensingh-bound moving train in Trishal area last night. 
The convict, Faruq Elahi Khorshed, 40, son of late Abdul Hekim alias Heki of Rampur village in Trsiahal, was also accused in another murder case filed with Kamlapur Railway Police Station, reports our Mymensingh correspondent quoting police.
A four-member police team led by Nayek Shah Alam of Razarbagh Police Line was taking two accused, Faruq and Shaheen, 30, to Mymensingh from Dhaka Central Jail by train on Monday.
When the train was passing through Dala area of Trishal upazila around 7:30pm, Faruq jumped off the train and disappeared in the dark, police said.
Faruq was scheduled to be produced before a Mymensingh court in a murder case filed with Trishal Police Station in 2015, police also said.
"Due to shortage of prison van, the accused were being taken by the train", said Md Moniruzzaman, officer-in-charge of Trishal Police Station.
A case was lodged in this connection with Mymensingh Railway Police Station, said Abdul Ahad Khan, officer-in-charge of the police station.
Later, Shaheen, accused in another case, was handed over to Mymensingh Jail authority around 8.30pm, jail sources said.
Meanwhile, a three-member probe committee headed by Additional Police Superintendent Md Harun-or-Rashid was formed to investigate into the incident.
The other members of the body are: Assistant Police Superintendent (Gafargoan Circle) Billal Hossain and Md Moniruzzaman, officer-in-charge of Trishal Police Station.