Who have highest/lowest bank deposits in Bangladesh?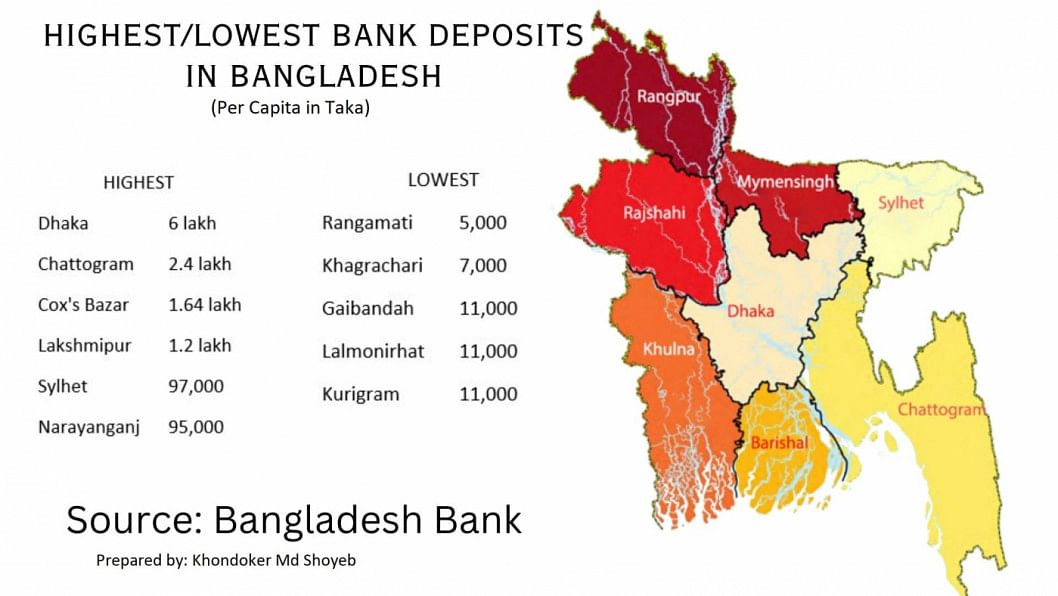 Bangladesh Bank has recently released data on deposits on all banks and it came out that people in hilly district of Rangamati have a per capita bank deposit of Tk 5,000, the lowest in the country.
And, as expected, Dhaka is the home to people with the country's highest per capita deposit of Tk 6 lakh, which is 120 times higher than the hilly district.
Chattogram district stood second with per capita deposit of Tk 2.41 lakh and Cox's Bazar third with Tk 1.64 lakh.
In case of divisions, Dhaka, again, tops the list with Tk 2.33 lakh where Rangpur comes last with Tk 17,000.
Dhaka division's 4.19 crore people in 13 districts have stored in banks a total of Tk 9.79 lakh crore, around 85 per cent of which, or Tk 8.32 lakh crore, belong to the people living inside Dhaka district alone.
People in the rest 12 districts of Dhaka division have bank deposits of only Tk 1.47 lakh crore.
In Chattogram division, 3.27 crore people have a bank deposit of Tk 3.29 lakh crore, of which 64 per cent of the funds, or Tk 2.11 lakh crore, were deposited by the inhabitants of Chattogram district.
Some 1.8 crore people live in Khulna Division and they have Tk 67,574 crore in bank deposits, for which per capita deposit stands at Tk 37,000.
People in Rajshahi and Barishal divisions have per capita bank deposits of Tk 30,000 and Tk 31,000 respectively which goes as high as Tk 54,000 for Sylhet, but comes down to Tk 20,000 for Mymensingh.
District-wise, Dhaka, Chattogram and Cox's Bazar occupy the top three positions respectively in per capita deposits countrywide where Lakshmipur stands fourth with Tk 1.2 lakh, Sylhet fifth with Tk 97,000 and Narayanganj sixth with Tk 95,000.
It is worth mentioning here that once Monga-prone Rangpur division's Gaibandah, Kurigram and Lalmonirhat have per capita bank deposits of Tk 11,000 each, which is still higher than Khagrachari's Tk 7,000, the second lowest in Bangladesh.