Journo leaders concerned over 'threat' to Star, its editor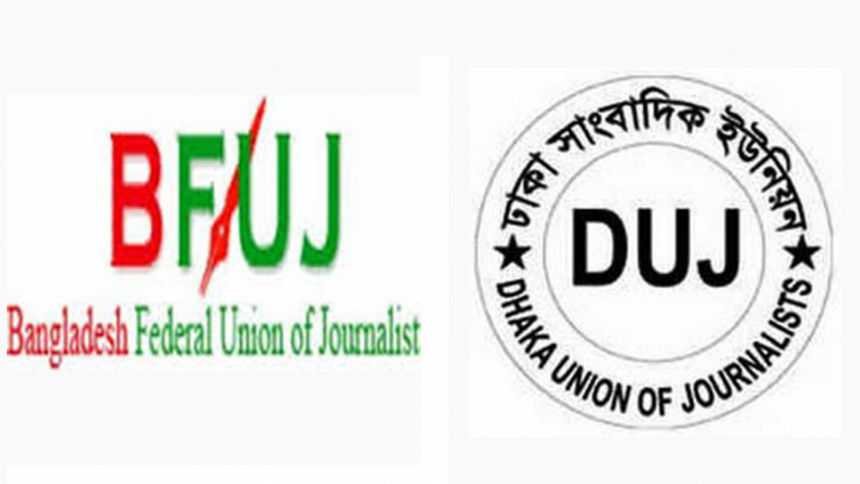 Journalist leaders today expressed their deep concern over the threats to shut leading English newspaper The Daily Star and arrest its editor.
The threats came from the close circle of the government's power centre, leaders of Bangladesh Federal Union of Journalists (BFUJ) and Dhaka Union of Journalists (DUJ) said in a joint statement.
The leaders expressed deep concerns and anxieties over the threats.
BFUJ acting president Shamsuddin Harun, its Secretary General M Abdullah, and DUJ President Abdul Hai Sikdar and, its General Secretary Jahangir Alam Prodhan issued the statement.
The reaction came a day after two defamation cases were filed against Anam in Khulna and Laxmipur for publishing reports based on information given by DGFI which allegedly tarnished the image of Awami League chief Sheikh Hasina.
"We think that the threat to the newspaper and demand for the editor's arrest over a controversial issue are motivated and an attempt to panic the media. We strongly condemn and protest it," the statement reads.
Referring to detention of journalists, closure of media and killing of journalist couple Sagar-Runi, the journalist leaders said that the freedom of press has been endangered due to what they said "repression and control by the government".
The new threat to shut The Daily Star and arrest its editor exposed the government's "anti-media attitude".
They also condemned the arrest of Amar Desh acting editor Mahmudur Rahman and former Jatiya Press Club president Shawkat Mahmud. They called upon the government to reopen the media shut by it earlier.
At a talk show on February 3, The Daily Star Editor Mahfuz Anam made an introspective comment about a lapse in his editorial judgement in publishing a few reports that the newspaper could not independently verify at the time.
During the 2007-08 period, almost all the mainstream media outlets – both print and electronic – ran reports on corruption by top political figures based on information given by the joint forces.
But some ruling party leaders and lawmakers are making an issue out of it and taking a dig at The Daily Star and its editor. Attempts are also being made to distort and give negative spins to what Mahfuz Anam has actually said during the talk show.