Innovative farmer brings peace, prosperity to whole village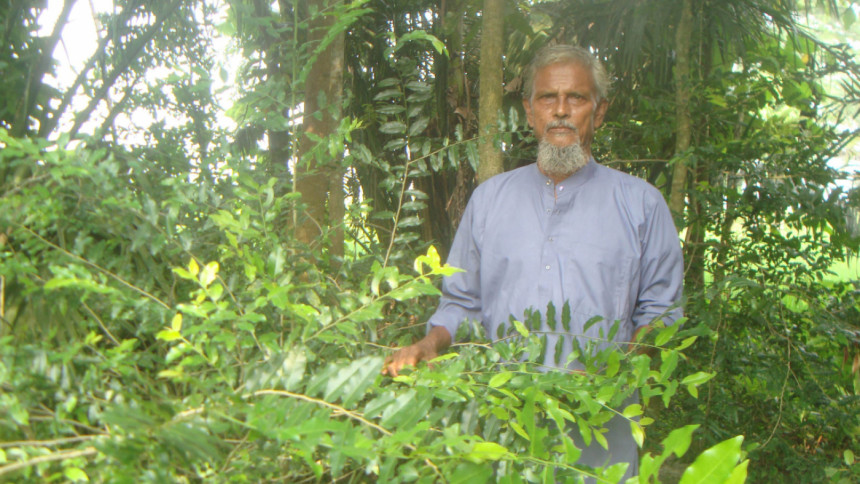 Tranquil days pass. The rural landscape shifts coat with every season. As 72-year-old farmer Mokbul Hossain reflects upon his life, and that of the village around him, he has reason to be content. The villagers of Moheshwarchanda, in Jhenidah's Kaliganj upazila, did much to build a community of harmony and prosperity. Mokbul played his part.
The son of a poor farmer, he was born in 1945. He was only able to study to class four. At age fifteen, when his father died, Mokbul started working as a day labourer. Then he plied rickshaw for fifteen years.
But in 1982 a predictable lifeline took a fresh direction. It wasn't only that then 37-year-old Mokbul wanted more. The whole village wanted more. Together they took a firm decision: every effort would be made to develop their village.
At first they dug a well for field irrigation. Collectively they organised the withdrawal of seventy vexatious court cases filed by and against villagers. They pooled land to make larger plots suitable for lucrative agriculture; and by 1993 they had extended mechanised irrigation throughout the village. In the political arena, the villagers worked towards a playing field free from clash and rivalry.
Mokbul's first major contribution was to the soil. In 2000 an agricultural scientist, Dr Gul Hossain, visited their village from Dhaka, offering training on natural vermicompost fertiliser, produced by earthworms. Mokbul took up the challenge.
Not only did he start to produce vermicompost, he helped others. "I explained to neighbours how to make and use natural fertiliser," he recalls. "It allows us to produce chemical-free, healthy vegetables. It contributed to village development." Today, all 151 families in Moheshwarchanda produce vermicompost.
Mokbul provided training further afield. He helped establish 33 vermicompost farms in 33 districts, he says. He promoted the natural insecticide, balai nashak, too. "I learnt vermicompost production skills from Mokbul Hossain," says one Sukjan Khatun from Dapna village in Kaliganj. "Now I earn a handsome amount from it. I'm really happy."
Mokbul started to grow medicinal plants, of which he currently has 108 species. "Mokbul uses his medicinal plants to help others," says Alim Uddin, a teacher at Naldanga Bhusan pilot secondary school. "He prepares treatments for free."
From paddy hybridisation meanwhile, Mokbul developed three new strains of paddy, which he calls Mokbul-01, Mokbul-02 and Mokbul-03. "Of the three varieties he has developed," says the agriculture officer in Kaliganj, Jahidul Karim, "Mokbul-03 is the most remarkable. It contains two rice grains in each seedcase, which has impressed many."
"Our village is different from others," Mokbul opines. "All families here have achieved economic self-reliance from vermicompost production. We have improved the quality of our soils. The village has gained a reputation for clean agriculture."
As he approaches his twilight years, farmer Mokbul has reason to feel content. Over the years he has managed to purchase two acres and build a brick home. He helps the sick. He has encouraged a better approach to farming. And he can see, along with his neighbours, a Moheshwarchanda village where families are able to look after themselves. His horizon is, in short, that of a village at peace.