Goods transportation resumes at Ctg port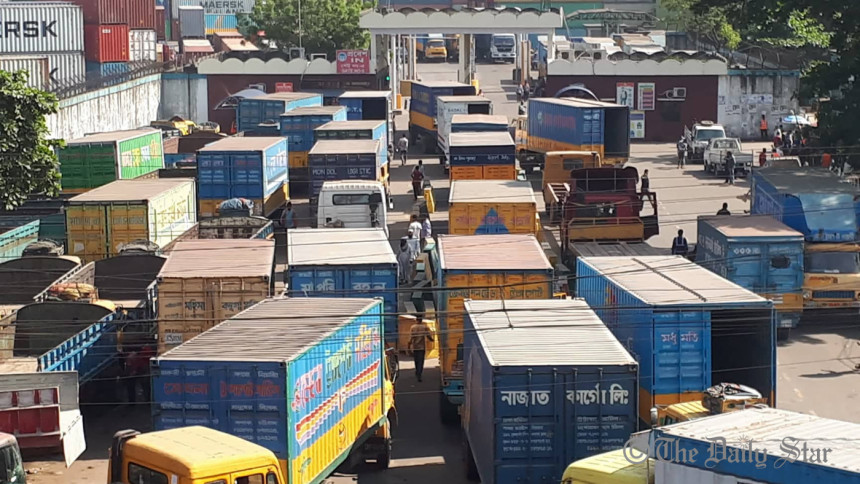 Transportation of goods and containers to and from Chattogram port resumed early today after truckers and covered-van drivers called off their strike following a meeting with the home minister.
The container movement started around 2:00am after 18 hours of suspension since 8:00am yesterday, our Chattagram correspondent reports quoting Md Omar Faruq, secretary of Chattogram Port Authority (CPA).
Also read: Truckers' strike hits businesses
All the trucks, trailers and container-laden-vehicles which were waiting for delivery the entire day yesterday, started from the port 15 minutes into the strike withdrawal announcement, Omar Faruq said.
On the other hand, container-laden vehicles from the 17-private off-docks also started for the port as soon as the announcement arrived, Chattogram port Bangladesh Inland Container Depots Association (BICDA) Secretary Ruhul Amin Sikder said.
Long queues could also be seen at the port gate since morning following the end of the strike, our correspondent also reports.
Truckers and covered-van drivers called off their strike during the early hours of today.
Rustam Ali, convener of Bangladesh Truck, Covered-van Goods Transport Owners-Workers Unity Council, made the announcement around 1:00am today following a meeting with Home Minister Asaduzzaman Khan at his Dhanmondi residence in the capital.
"They [the government] met some of our demands and assured us of meeting some others. They said they would review the new road transport act," Rustam said told The Daily Star.
The truckers and covered-van drivers enforced the strike amid a work stoppage by bus owners and drivers in 20 districts.