Floodwater starts receding in Kurigram
People start returning to their homes slowly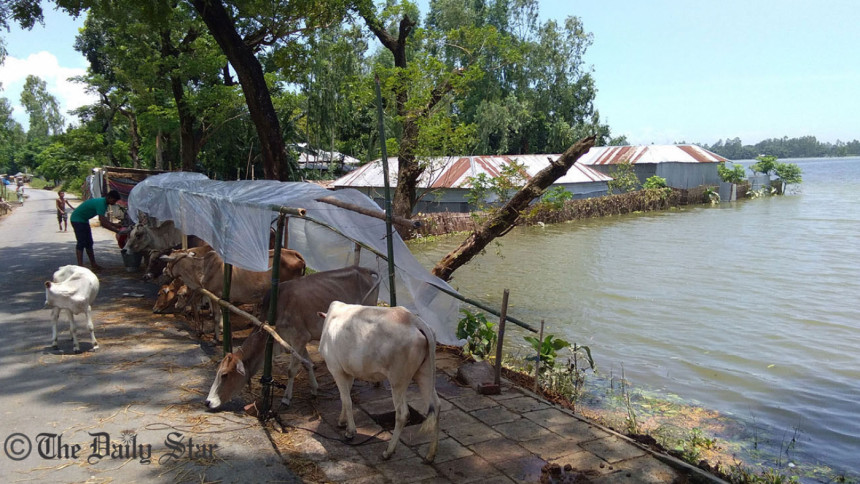 The flood situation in Kurigram district has been improving, despite three of its main rivers still flowing above the danger level.
Floodwaters started to recede in many areas prompting many flood-hit people to return to their homes along with their cattle from the temporary shelters, reports our Kurigram correspondent quoting locals.
Water of the Dharla river was flowing 23cm above the danger level at Dharla Bridge point of Sadar upazila after decreasing 36cm, sources at the flood control room of the Water Development Board in Kurigram told the correspondent.
At Chilmari Ghat point of Chilmari upazila, the water of Bhrahmaputra river was flowing at 63cm above the danger level after decreasing 27cm while water of Dudhkumar river was flowing at 25cm above the danger level after decreasing 32cm at Noonkhawa point of Sadar upazila in the last 24hours till this morning
"My family, along with our livestock took shelter at Nurani-Hafezia Madrasah near his village area due to the rising flood water of the Dharla River," Nur Islam, 48, hailing from Char Shitayejhar village under Kurigram Sadar upazila told the correspondent.
The flood water has receded significantly allowing Nur Islam and his family to return home but he will take his cattle back from the shelter after making necessary repairs.
 Around 7,95,600 people of 1,98,900 families and 1,82,019 domestic animals (cow, buffalo, goat and sheep) from nine upazilas of the district were marooned by the floodwater and at least 4,996 people of 1,249 families (of them) have lost their homes in the flood this season in the district, sources at the district relief and rehabilitation office (DRRO) said.