Flood Victims in North: Returning home to a grim sight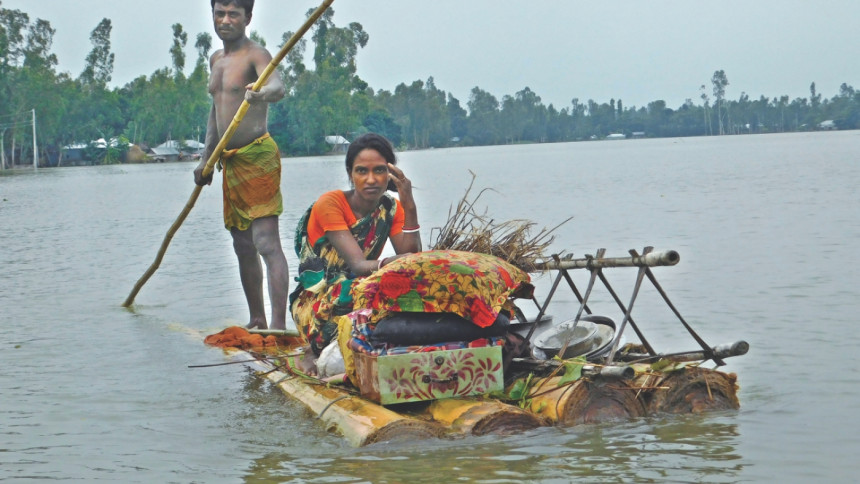 After living in the open for 10 days, 46-year-old Kulsum Begum and her children returned home on Sunday morning.
But she could hardly recognise her own home. The flood had left one of her two tin shacks completely wrecked, the latrine and many other objects were gone, and there was a thick layer of wet silt on everything that had not got washed away. 
"We haven't earned anything in about two weeks.  Will we buy food or fix the home," said the landless peasant woman of Lalmonirhat's Bagdora area.
Another victim, Josna Begum, 30, a resident of Singra Bazar area under Phulchari upazila of Gaibandha, passed nine days at a local embankment as her house was inundated by floodwater.
After returning home yesterday, she found that her three tin-roof houses was washed away by water.
Like her, around 1.10 lakh people were affected by the flood in Lalmonirhat, officials said.
The receding flood waters are leaving trails of devastation also in Chattogram, Cox's Bazar, Bandarban, Khagrachari, Rangamati, Feni, Brahmanbaria and Nilmphamari, according to the National Disaster Response Coordination Centre.
About 47 lakh people are being directly affected by flood water in Kurigram, Bogura, Gaibandha, Sirajganj, Netrakona, Sherpur, Tangail, Jamalpur, Faridpur, Shariatpur, Rajbari, Madaripur, Manikganj, Munshiganj, Chandpur, Sylhet, Sunamganj, Habiganj and Moulvibazar, the report said.
Meanwhile, the Flood Forecasting and Warning Centre (FFWC) said the situation in Gaibandha, Jamalpur, Bogura, Tangail, Sirajganj, Manikganj, Rajbari, Faridpur and Munshiganj may improve today.
The Teesta river at Nilphamari's Dalia and Dharala river in Kurigram are likely to may rise abruptly today while there would be heavy showers in the northern districts, the FFWC bulletin said.
Many flood victims are still suffering from food and water shortage.
"We got 10kg rice as relief a few days ago. Now, we don't know what we will eat in the coming days," said Soneka Bala, 58, a resident of Tajpur village under Lalmonirhat.
Another victim, Ataur Rahman, a resident of Nowbosh area in Kurigram, said, "I stored some rice in my house. When the flash flood water entered my house, we evacuated immediately. After nine days, we returned home today only to find that our rice has been destroyed."
Many families have become victims of river erosion and lost their houses and lands.
In Munshiganj, houses of over 100 families of Kharia and Teutia area in Lauhajang upazila have been eroded by the Padma in the last one week.
Houses and lands of over 100 other families are at the risk of being eroded. Many of them have taken their household essentials, tin-roofs and furniture elsewhere.