Floods heading to the heartland
Situation may improve in the north; affected people keep suffering for lack of food, drinking water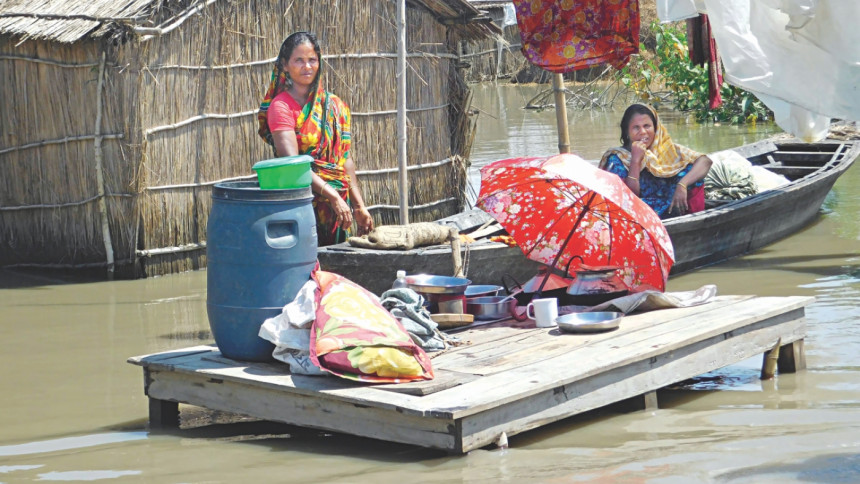 The floods, which have been ravaging the north and hilly regions, are now approaching the districts adjacent to the capital from the north.
The Flood Forecasting and Warning Centre (FFWC) forecast that the situation may deteriorate in Manikganj, Rajbari, Faridpur and Munshiganj today.
On the other hand, it might improve in Tangail, Sirajganj, Bogra, Jamalpur, Kurigram, Gaibandha Netrokona, Sunamganj and Sylhet.
In a bulletin yesterday, the FFWC said the water levels of the major rivers, except the Ganges-Padma, were in a falling trend. 
The Lakhya river in Gazipur was flowing 6cm below the danger level, while the Balu river in Demra was 56cm below its danger level. 
The Padma river at Sureswar point in Shariatpur district may cross the danger level today. The Jamuna river was flowing 82cm over the danger level at Aricha point till 3:00pm yesterday.
The FFWC yesterday found different rivers flowing above the danger level in 21 stations out of 93. 
In Manikganj, around 50,000 flood-hit families in 70 villages are living in dire condition for lack of food and pure water. 
At least 30 educational institutes have been closed in Daulatpur, Shivalaya, Ghior, Harirampur and Saturia upazilas, according to the district's flood control room.
Due to river erosion, 300 families have become homeless in the last few days, said Md Babul Mia, acting district commissioner of Manikganj. 
Meanwhile, ferry service on the Paturia-Daulatdia river route has been disrupted for the last seven days due to the heavy current in the Padma. 
In Faridpur, around 2,000 families and 4,056 hectares of crops of Sadar, Sadarpur, Bhanga and Char Bhadrason upazilas have been hit by the deluge.
Some 15 primary schools have also been closed, while around 50 roads have been submerged. 
Contacted, Roksana Rahman, additional deputy commissioner of the district, said they had opened a flood monitoring cell to deal with emergencies.
Elsewhere in Munshiganj, the Padma river has eroded the lands of 10 families in Kharia village under Lauhojong upazila over the last three days.
In Tangail, people in Kalihati upazila's Shampur area dug out a diversion road on the Tangail-Bhuapur Road yesterday to divert flood water in the area. As a result, vehicular movement on the road remained suspended.
Earlier on Thursday night, around 50m of the Bhuapur-Tarakandi Road was damaged due to floodwater.   
In Rajbari, over 500 families have been directly affected by the flood in the last three days.  
In Gaibandha and Kurigram, most of the flood-affected people have taken shelter on dykes and highlands and are suffering from a crisis of food and drinking water. 
A total of five people have so far drowned in the flood in Gaibandha.