Disaster management ministry to remain open Friday, Saturday
Train routes changed temporarily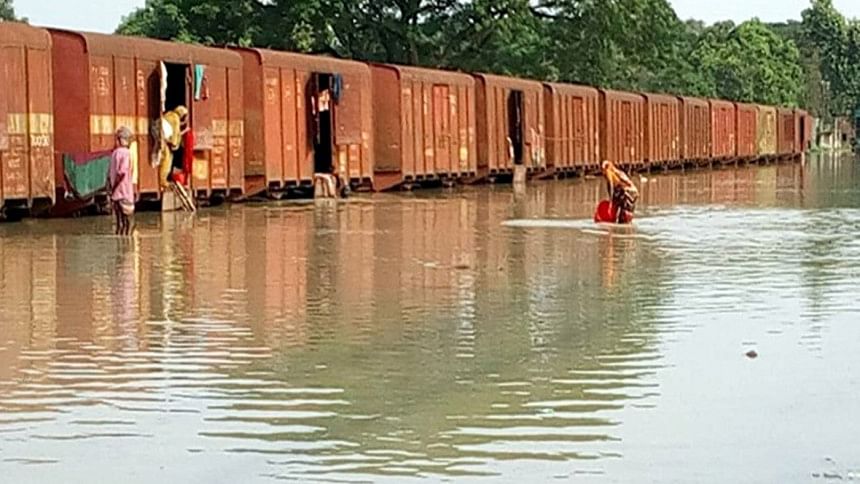 The Ministry of Disaster Management and Relief will remain open on next Friday and Saturday.
The decision was taken today for monitoring overall flood situation that has worsened in different districts in last couple of days, according to a notice of the ministry.
In the notice, the ministry asked its officials to be present at their offices at usual office time on July 19 and 20.
TRAIN ROUTES CHANGED TEMPORARILY 
Various trains are using different routes instead of the usual ones for the time being as many areas of the country are affected by the flood.
The Bangladesh Railway issued a press release in this regard today.
According to the release, several intercity trains – Teesta Express, Jamuna Express, Brahmaputra Express and Agnibina Express leaving from Dhaka, Chattogram and Mymenshingh are taking final stoppage at Jamalpur Railway Station.
Bangladesh Railway Route Map by Daily Star on Scribd
The intercity trains used to ply Dewanganj station and Tarakandi/Bangabandhu bridge (east side) station.
The release said that the train routes have been changed as many points of the railway lines are under flood water.
Meanwhile, Lalmoni Express is operating on Dhaka-Shantahar-Parbatipur-Lalmonirhat route instead of Dhaka-Shantahar-Bogura-Bonarpara-Kaunia-Lalmonirhat route while Rangpur Express is using the route of Dhaka-Shantahar-Parbatipur-Rangpur.
Meanwhile, Dolonchapa Express has changed its route to Dinajpur-Gaibandha-Dinajpur and Korotoa Express to Shantahar-Bonarpara-Shantahar for the time being.
Apart from these trains, Padmarag Express is not currently operating as it got stuck at Badiakhali Rail Station.
Bangladesh Railway has apologised to the passengers who are suffering in the current situation, the release reads.
The railway authorities will try its level best to repair the inundated lines at the earliest possible time after flood water recedes.
FLOOD SITUATION
Around 73,400 houses and 36,000 hectares of crops have been damaged by recent floods in 21 districts, causing thousands of people to suffer.
The 21 districts affected by the flood are: Chattogram, Bandarban, Khagrachari, Rangamati, Cox's Bazar, Lalmonirhat, Nilphamari, Sunamganj, Netrokona, Sylhet, Bogura, Gaibandha, Kurigram, Moulvibazar, Habiganj, Feni, Brahmanbaria, Sherpur, Tangail, Jamalpur and Sirajganj.
The Flood Forecasting and Warning Centre (FFWC) forecasted that the flood situation in Kurigram, Jamalpur, Gaibandha, Bogra, Sirajganj, Tangail, Manikganj and Faridpur may deteriorate today.
However, the situation may improve in Netrokona, Sunamganj, Sylhet, Habiganj and Moulvibazar.
The water levels of the Brahmaputra-Jamuna and Ganges-Padma rivers may continue to rise in the next 48 hours, while the Padma river at Bhagyakul point may cross its danger level today, according to the FFWC bulletin.
The FFWC monitored river conditions at 93 river stations across the country. Of these, 23 stations showed that water was flowing above danger levels.
Meanwhile, rail communication between Gaibandha and other districts remained shut since around 11:00am as the rail track was submerged in Sadar upazila's Trimohoni area.
Thousands of people were suffering due to the floods across the country.