New areas submerged in Sherpur, situation improves in Lalmonirhat
Flood situation has worsened in Sherpur as new char areas and croplands went under water due to the sudden swelling of Old Brahmaputra river while the situation has improved slightly in Lalmonirhat.
Meanwhile, the flood situation in Kurigram remain unchanged.
Sherpur
The increasing water of Old Brahmaputra River has led to the inundation of new char areas, croplands and houses, triggering fears of a devastating flood, reports UNB.
Water Development Board said the river rose by three feet within 24 hours and was flowing just below the danger level at Sherpur Ferryghat Point at 6am today.
Sherpur's relief office said 172 villages in 35 unions of five upazilas had been flooded after heavy rains in the country and upstream regions adjacent to Bangladesh, leaving at least 63,000 people stranded.
Anowara Begum, the district's fisheries officer, said the flooding of ponds and fish enclosures have caused an estimated damage of Tk 5.18 crores.
Fifty-two educational institutions have been forced to suspend academic activities after they had gone under water.
The rising water is also causing panic among the people. Locals said new areas were suddenly submerged after 8pm on Wednesday and the Sherpur-Jamalpur Highway Porar Dokan diversion had gone under knee deep water within the night.
Kurigram
The Brahmaputra, Dudhkumar and Dharla rivers were flowing 130cm above their danger marks at Chilmari Ghat point, 101 cm at Noonkhawa point and 9cm at Dharla Bridge point respectively at 6:00am today, according to the control room of Kurigram WDB.
But water levels in all the 16 rivers of the district including the Brahmaputra, the Dudhkumar, the Dharla and the Teesta decreased compared to previous days.
The control room said the Brahmaputra, Dudhkumar, Dharla and Teesta rivers decreased two centimetre (cm) at Chilmari Ghat point under Chilmari upazila, two cm at Noonkhawa point under Sadar upazila, six cm at Dharla Bridga point under Sadar upazila and 23 cm at Kaunia Ghat point under Kaunia upazila of Rangpur respectively within last 12 hours.
The district relief and rehabilitation office (DRRO) sources said some 6,14,596 people of 1,53,649 families in nine upazilas of the district were marooned by the floodwater while 4,996 people of 1,249 families (of them) have lost their dwelling houses due to the flood.
Around 33,127 hectares of lands are under the floodwater. Of them, 15,159 hectares of cropland damaged," the DRRO sources said.
Lalmonirhat
The Teesta water has started to reduce as onrush water from the upstream decreased at Gazoldoba barrage in the Indian state of Paschimbanga, according to Lalmonirhat district administration.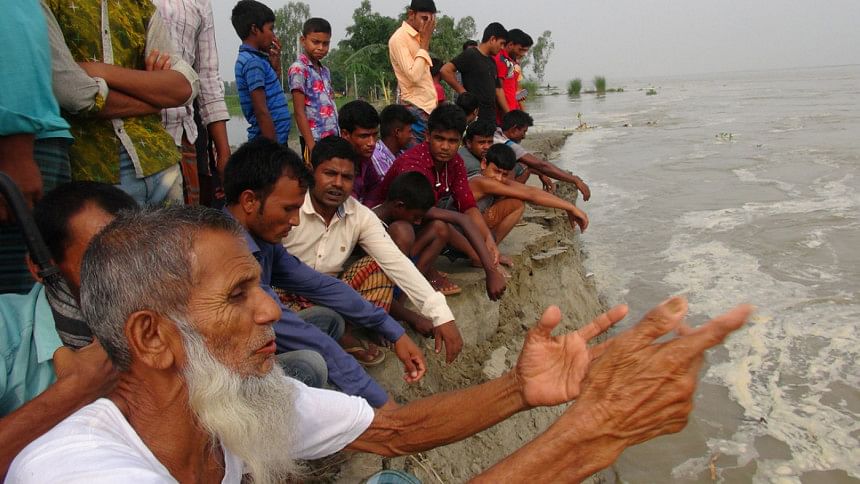 Water level of Teesta was flowing 35 cm below the danger mark at Kaunia Ghat point in Kaunia upazila (Rangpur) under its danger mark, our Kurigram correspondent reports quoting WDB officials.
Acting Deputy Commissioner of Lalmonirhat Ahsan Habib told our Lalmonirhat correspondent that nearly 60 percent of the flood-affected people have returned to their homes from the flood centres as the flood situation improved.