Water recedes, diseases spread
As floodwater started receding across the country, different kinds of waterborne diseases have begun spreading in some districts.
Many people are suffering from diarrhoea, skin diseases, dysentery, cholera and other waterborne diseases.
Meanwhile, the Bangladesh Water Development Board (BWDB) has said there was no possibility of the flood to linger.
"Floodwater has already started descending in many districts. If this continues, it may take around one week for floodwaters in all the [affected] districts to recede," said Arifuzzaman Bhuiyan, executive engineer of BWDB and duty officer of the Flood Forecasting and Warning Centre (FFWC).
Besides, there was no possibility of floodwater entering the capital or its adjacent areas, he told The Daily Star.
The flood situation may continue improving in Tangail, Sirajganj, Bogra, Jamalpur, Kurigram, Gaibandha and Sylhet, while it may remain unchanged in Manikganj, Rajbari, Faridpur and Munshiganj today, according to the FFWC.
Except for the Padma and rivers around Dhaka city, the water levels of all major rivers of the country are decreasing, said the FFWC in its bulletin yesterday. 
The water levels in the Brahmaputra-Jamuna and Surma rivers may continue falling, while it may remain the same in Ganges-Padma and Kushiyara rivers, added the bulletin.
The FFWC yesterday monitored the conditions of different rivers at 93 stations across the country. Of these, 21 stations had water above danger levels.
Over 4.2 people in 21 districts were affected by the recent flood, according to the National Disaster Response Co-Ordination Centre (NDRCC).
However, affected people of nine districts -- Chattogram, Cox's Bazar, Bandarban, Khagrachari, Rangamati, Feni,
Brahmanbaria, Nilphamari and Lalmonirhat -- began returning to their homes as floodwater had started receding in their areas, said an NDRCC report yesterday.
Many flood-affected people have been suffering various diseases due to the flood. 
In Bogura, many flood-affected people are suffering from diarrhoea, cholera and various skin diseases. Around 1,000 patients took treatment at Sonatola upazila Medical Camp, said Baizid Bostami, a health assistant of the camp.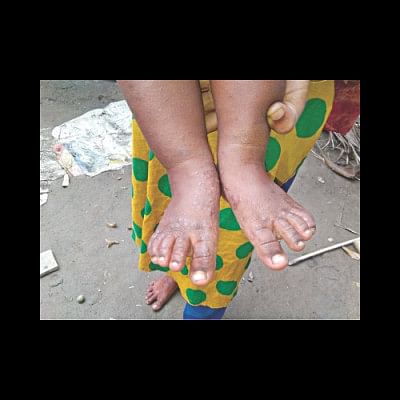 "Our tube-well was submerged, so we had to drink water from the river. Now, most of our family members are suffering from diarrhoea," said Nurjahan Begum, 25, a resident of Pakullar char area in Sonatala upazila.
In Sirajganj, over 50 people were affected with waterborne diseases, mainly diarrhoea, over the last three days, according to officials of district's civil surgeon (CS) office. 
"As the water level is receding, patients of waterborne diseases, mostly diarrhoea, are increasing. Flood affected people may also be infected with skin and eye diseases," said Md Saiful Islam, deputy civil surgeon of the district's CS office.
Rokeya Begam, 50, from Kurigram Sadar upazila's Kishamat Malbhanga village, said, "My family and I were living on the Dharla river protection embankment near my house for eight days due to the flood. The floodwater receded from my houses yesterday [Saturday]. 
"Today [Sunday], we have returned home…But the house is not fit to live in yet as there is still silt from the flood inside my house." 
Rubina Begam, 20, of the same village said, "My one-year-old son has skin disease on his feet due to floodwater."  
Kurigram's Civil Surgeon Dr Aminul Islam said, "We are giving treatment to the flood victims for post-flood diseases in every flood centre and flood sheltes. But some skin diseases have been found among some people who were living in their flooded homes. 
"With the floodwater receding, members of our medical teams can now go to the flood-affected homes. We are giving tablets, with necessary instructions, to purify the floodwater."
In Manikganj, ferry services on the Paturia-Daulatdia route have been disrupted for the last seven days due to strong currents in the Padma river and a shortage of ferries, creating long tailbacks at the Patuaria Ghat of Manikganj. 
More than three hundred goods-laden trucks and more than a hundred other vehicles were seen waiting there around 3:30pm yesterday.
(Our Pabna, Bogura and Manikganj correspondents contributed to the story.)