Facebook video reunites family after 48 years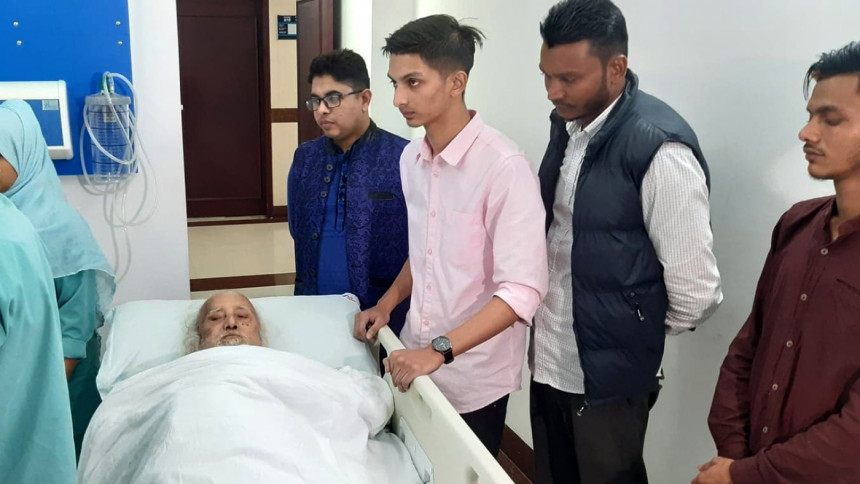 Habibur Rahman was 30 years old when he left home for a business trip and never returned.
Forty-eight years later, he was reunited with his family in the most unimaginable way possible -- through Facebook.
Habibur used to trade in rod and cement in his hometown of Bajgram in Sylhet's Biyanibazar upazila right after the Liberation War. In his family of six were four sons, the youngest of whom was 40 days at the time.
His family members searched far and wide, and did everything they could to track him. But he had vanished into thin air.
On January 17, the wife of Habibur's eldest son, who lives in the US, stumbled upon a video post of a man seeking financial help for a patient next to him, who could not be treated for a lack of money.
In the video, a patient was seen lying on a bed of MAG Osmani Medical College, where he shared his name, his wife's name, and hometown. Habibur's daughter-in-law had heard stories of her father in law's disappearance. She grew suspicious and shared the video with her husband.
Habibur's eldest son immediately called his brothers in Sylhet to go check out the patient.
The following morning, brothers Shahab Uddin and Jalal Uddin went to the hospital and confirmed that the patient in the video was none other than their father.
"I remember that my mother and uncles did everything to find him for years, before finally giving up. Later, my mother passed away in 2000," said Jalal.
For the last 25 years, Habibur has been living at Rayossri area in Moulvibazar, where a woman named Razia Begum used to look after him.
Razia said her family members found Habibur in a disoriented state at Hazrat Shahab Uddin shrine in 1995. He could not say where he was from. "He said he used to live a nomadic life. He has been staying with us ever since. We respect him and call him Peer."
Razia said Habibur has been suffering from old-age complications for the last decade. A couple of days back, he fractured his right hand when he fell from the bed.
He was admitted to Moulvibazar Sadar Hospital, but was later shifted to MAG Osmani Medical College Hospital after he developed an infection on the broken hand, said Razia.
Doctors told Razia that he needed to be operated upon, but she could not afford it.
The man in the adjacent hospital bed was kind enough to make a video on him, where he could explain his situation and seek money. It was this video that ultimately helped him find his family, Razia added.
The return of Habibur has brought great joy to the family.
Expressing gratitude to the man who shared his video, Jalal said they had almost given up hope. "We have no words to express our happiness."
His grandson Kefayat Ahmed said, "My parents used to tell me of my grandfather when I was a child. I never I would get to see him, but was always hopeful. Today, the wait is over and I am very happy".
After the reunion, the family took Habibur to a private hospital for better treatment. There, he is surrounded by his sons and grandchildren for the first time in 48 years.