Cop negligence found, SI suspended over 4-kid murder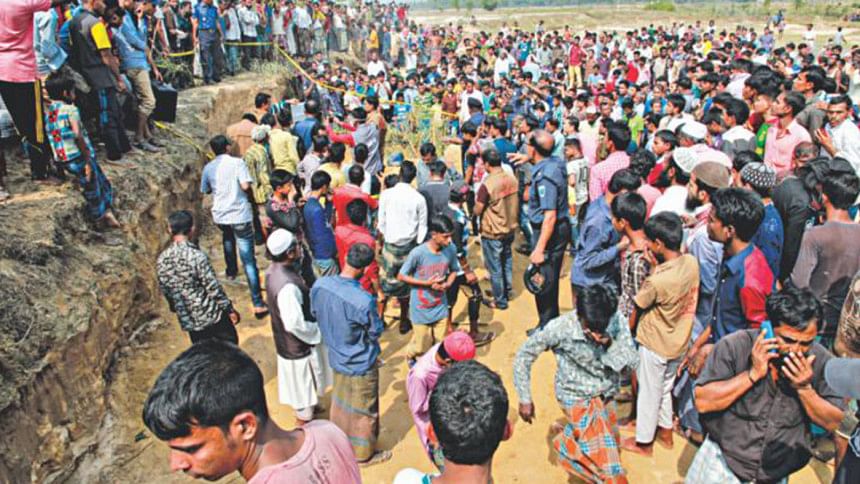 The probe report submitted today over the Habiganj 4-children murder found negligence of police. A sub-inspector has been suspended in this regard.
- Bahubal police SI suspended
- Action recommended against OC
- Probe report submitted
- Six held so far, one accused dead
Muktadir Hossain, investigation officer of the case handed over the probe report to district police superintendent, our Moulvibazar correspondent reports.
Bahubal Police Station Sub-Inspector did not pay heed when the parents knocked the police station over the missing children, Habiganj police SP Joydeb Kumar Bhadra quoted the report. "He has been suspended."
The probe also recommended actions against Abdur Rahman, officer-in-charge (investigation), of the police station over the same grounds, he added quoting the report.
The bodies of four schoolboys who had gone missing from Sundrateki in Bahubal upazila on February 12 were recovered from a ditch at the village after four days.
A murder case was filed with Bahubal Police Station. Later, the case was handed over to the Detective Branch of police and its OC Moktadir Hossain was given the charge of investigation.
On February 24, Bachchu Mia who was an accused in the four-child murder case was killed in a "gunfight" with Rapid Action Battalion (Rab) in Chunarughat upazila of the district.
Police arrested six persons so far for their suspected link in the murders. All the suspects are neighbours of the four children.
Rubel Miah, one of the arrestees, reportedly confessed before a local court about his involvement in the killings.