Kushtia AL infighting: 30 activists sued, OC suspended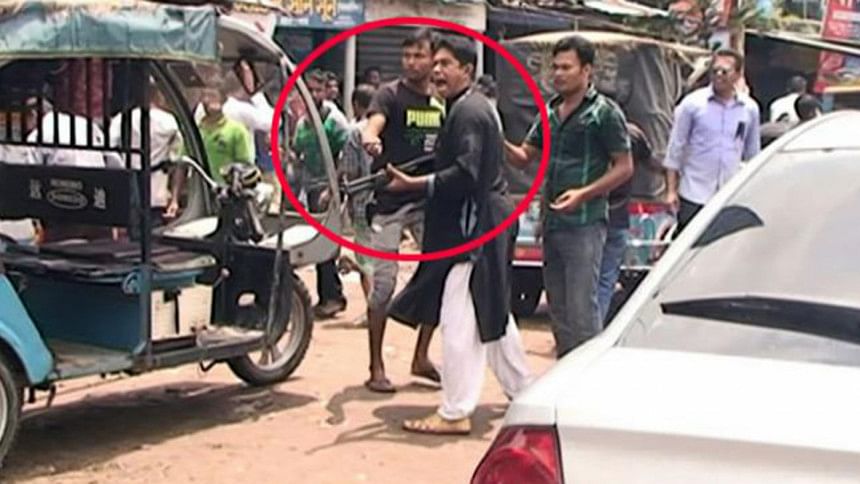 A case has been filed with Kushtia Model Police Station against the district unit general secretary of Swechchhasebak League following yesterday's clash between two groups of the ruling party supporters that left one killed.
Arifur Rahman, brother of former Kushtia town unit Awami League general secretary Mominur Rahman, filed the case against Swechchhasebak League General Secretary Sazzad Hossain Sabuj and 29 others this afternoon, reports our district correspondent.
Meanwhile, authorities today suspended Kushtia Model Police Station Officer-in-Charge Abdul Khaleq after the followers of Mominur and Sazzad clashed over establishing supremacy in the area.
District police Superintendent Proloy Chisim confirmed the suspension of Abdul Khaleq, reports our Kushtia correspondent.
Reason for suspension has been cited as "negligence of duty".
A Jubo League man was killed during a clash that ensued with Swechchhasebak League over paying tribute to Bangabandhu Sheikh Mujibur Rahman on August 15, the National Mourning Day.
SHOOTER WAS A SUSPENDED COP
The shooter during the clash was identified as Anisur Rahman, a former assistant sub-inspector of Dhaka's Kafrul Police Station who was suspended in August 2013 over "misappropriating drugs".
He is also said to be a relative of Mominur Rahman, a former general secretary of Awami League Kushtia town unit.
Meanwhile, police claimed to have detained two people over yesterday's shootings during the clash but have denied revealing their identities "for the sake of investigation".
Additional Deputy Inspector of police in Khulna range Ekram Ul Habib visited the spot but he did not make any comment to newsmen over the incident.
Followers of former Awami League's Kushtia town unit general secretary unit Mominur Rahman and followers of Sazzad Hossain Sabuj, general secretary of the district unit of Swechchhasebak League, clashed over establishing supremacy in the area.