'Turna Nishita's loco master likely responsible'
Railways Minister Nurul Islam Sujan reiterates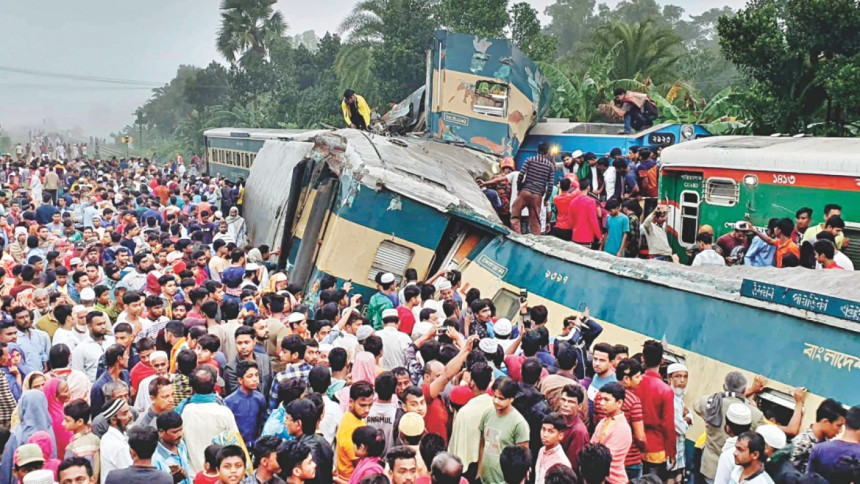 Railways Minister Nurul Islam Sujan today in parliament said that officials of Railways Ministry and Bangladesh Railway will remain alert to avert recurrence of train accident in the future like the one in Brahmanbaria.
He came up with the statement while giving a statement under section 300 of the rules of procedure of parliament over the deadly rail accident in Brahmanbaria on Tuesday leaving 16 dead and around 50 others injured.
In his statement, the railway minister said that in the primary stage it seems that the loco master of Turna Nishita Express is likely responsible for the deadly accident.
"We have temporarily suspended three on duty railway employees for this fatal accident that left 16 people dead," the minister informed the House.
He also informed MPs that the suspended Railway employees are -- loco master Tasir Uddin, assistant Apu Dey and guard Abdur Rahman.
In a bid to investigate the incident, four committees have been formed at different level, he also said.
Nurul Islam said among the total injured persons, 10 are being treated in Brahmanbaria Hospital, nine in Dhaka Orthopaedic Hospital, three in Dhaka Medical College Hospital, three in Kasba Hospital, seven in Dhaka Combined Military Hospital and four in Sylhet Osmani Medical College Hospital.
The minister also said that each injured person was given Tk 10,000 as a grant while Bangladesh Railway has taken steps to give Tk 1 lakh to each deceased family.