Accidents take acute turn due to govt's inaction: Fakhrul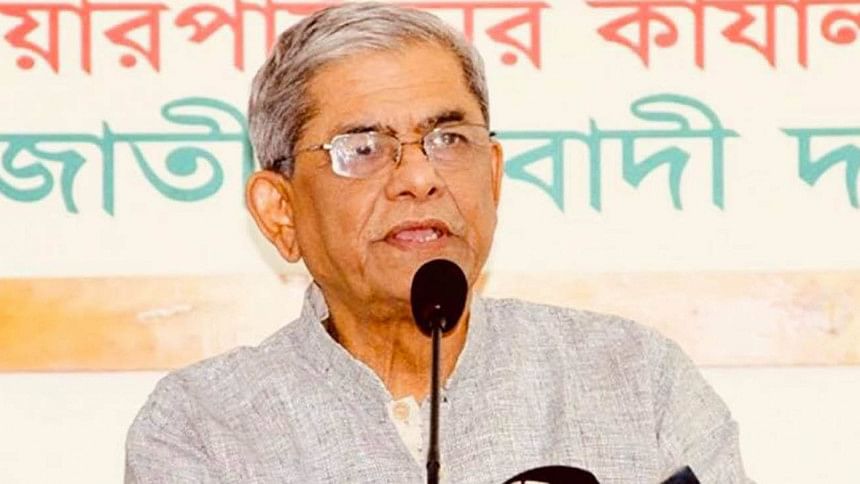 BNP Secretary General Mirza Fakhrul Islam Alamgir has expressed grave shock at the fatal train accident that left at least 16 people dead at Kasba upazila of Brahmanbaria and said it is an outcome of the government's failure in governing the country properly.
"I am also deeply shocked like those who lost their dear and near ones in the train accident. The accidents on highways, rail and waterways took an extreme turn due to the government's inaction in this regard," Fakhrul said in a statement today.
The Chattogram-bound Udayan Express from Sylhet and the Dhaka-bound Turna Nishita from Chattogram collided at the Mondobagh Railway Station on early today that left at least 16 people dead around a hundred injured.
Alleging that the government does not take proper steps though people are being killed in many road, rail and waterway accidents, Fakhrul said that the fatality is taking un extreme turn due to the government's flexibility in reducing the people's sufferings.
"The rule of autocracy is on instead of the rule of law in the country," Fakhrul said adding that the security of the people's lives is neglected and ignored as the government is above the accountability.
The countrymen are passing through an anarchical and sorrowful situation, the BNP leader said.
He also extended the heartiest sympathy to the bereaved family members and sought eternal peace of the departed souls.
Fakhrul also asked his party men in the area to stand beside the people who sustained injuries in the fatal train accident.