Fakhrul for national consensus to hold JS polls under 'neutral admin'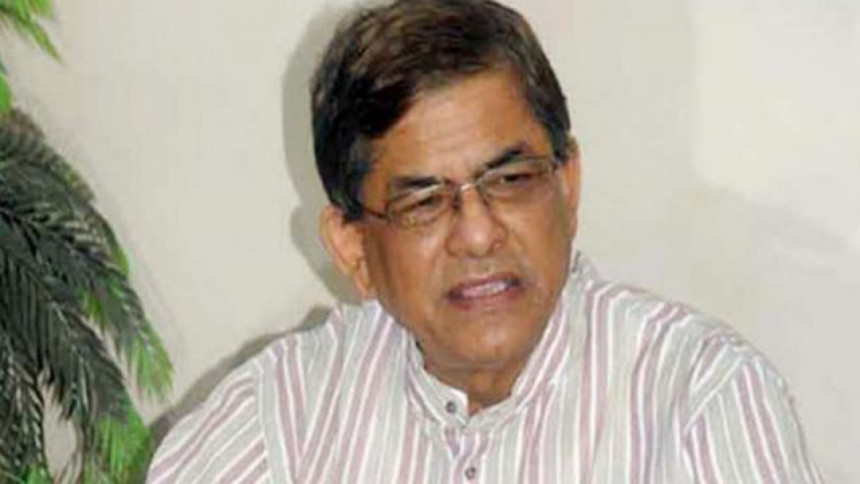 BNP Secretary General Mirza Fakhrul Islam Alamgir today again underscored the need for a national consensus to hold the next general election under a "nonparty neutral administration".
"We want the next general election to be held under a neutral government and democracy be restored. And a national consensus is a must for this purpose," Fakhrul said.
Fakhrul was addressing a programme organised by Association of Engineers' Bangladesh at the National Press Club demanding immediate release of party chief Khaleda Zia.
He said the next general election will not be acceptable and impartial if it is not held under a non-partisan caretaker government.
About the quota reform movement, Fakhrul appreciated the students and jobseekers' for their protest and called upon them to fight for greater interest --restoration of democracy.
About prime minister's announcement to abolish quota system in the public job, Fakhrul said, "It's a constitutional matter. The prime minister cannot say like this as it is out of her (PM) jurisdiction."
He also blasted the ruling Awami League as it has destroyed the country's democratic and financial institutions by indulging in corruption.
Under the prevailing political situation, BNP leaders and activists will have to go to the people for mobilising public sentiments against the "misdeeds and misrules" of the Awami League-led government, he said.
"We must create a mass upsurge in a democratic and peaceful manner to free the country from the grip of the government to establish a pro-people administration," said the BNP leader.
He also expressed his concern over the health condition of BNP Chairperson Khaleda Zia, now in Dhaka's old central jail, as she is not "getting treatment despite her ailment".
Fakhrul alleged that the government has sent Khaleda to jail by convicting her in a false and fabricated case as part of its evil design. "We must wage a movement to free her from jail," he warned.