No tickets for rebel backers
Says Hasina in ALCWC meeting; sets May 11 for BCL council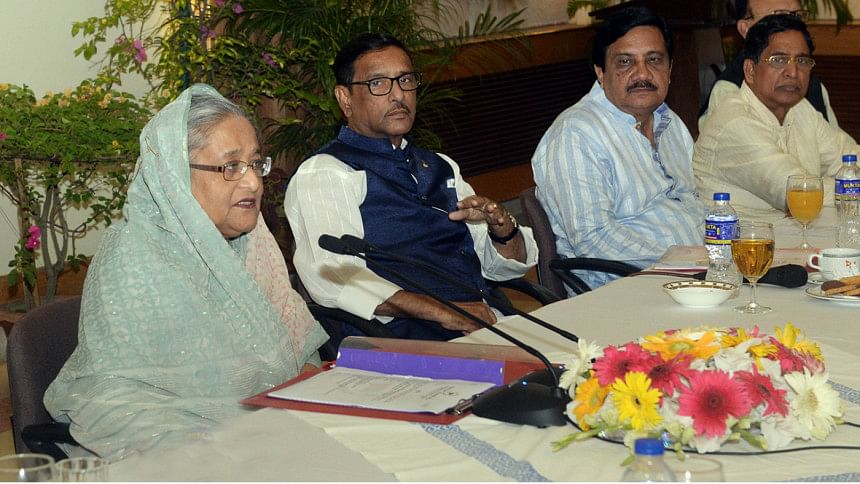 Ministers and lawmakers of ruling Awami League, who had backed AL rebels in local government elections, will not get party tickets in the upcoming general elections, said AL President Sheikh Hasina.
During a meeting of AL Central Working Committee, the highest decision-making body of the party, at the Gono Bhaban last night, Hasina said a list of leaders who violated party discipline and contested polls against AL-backed candidates would be prepared.
She asked AL organising secretaries to make the list, said meeting sources.
The issue came up when the polls to 53 union parishad chairmen posts on Thursday were being discussed. AL candidates won 29 posts, BNP 12, AL-rebels seven, and independent candidates achieved victory in five.
AL General Secretary Obaidul Quader on Friday blamed internal feuds for multiple defeats on Thursday. Hasina too expressed dissatisfaction over the internal feuds.
At the meeting, she set May 11 for the 29th central council of Bangladesh Chhatra League, the pro-AL student body.
On January 9, Hasina instructed the Chhatra League president and general secretary to hold the council on March 31, but it did not happen. The last council of the organisation was on 26 July, 2015, with a two-year tenure. The current committee expired on July 25 last year.
According to sources, Hasina at the meeting wanted to know why the AL was beaten in last week's Supreme Court Bar Association (SCBA) polls. Pro-BNP lawyers won 10 out of 14 posts.
She formed a committee, led by AL presidium member Kazi Zafarullah, to find out the reasons.
Hasina at the meeting said seeking votes for her party is her political right and she would keep on doing that, reports UNB.
"I'm the head of a political party... so I'll seek votes for my party wherever I'll go, and this is my political right," she said, reacting to criticisms by some BNP leaders.
"We'll have to convince people that only casting votes for Boat [the election symbol of AL] can bring prosperity in their lives," she said.
BNP leaders are constantly criticising the prime minister for seeking votes for Boat at various programmes. They say that Hasina is using state mechanism and money for her election campaign.
Hasina said BNP leaders, who indulged in massive corruption, money laundering and terrorism, could not bring any good for the country.
She said her government knows how to take Bangladesh forward.