'Govt will be forced to release Khaleda Zia'
Fakhrul says on 2nd anniversary of BNP chief's imprisonment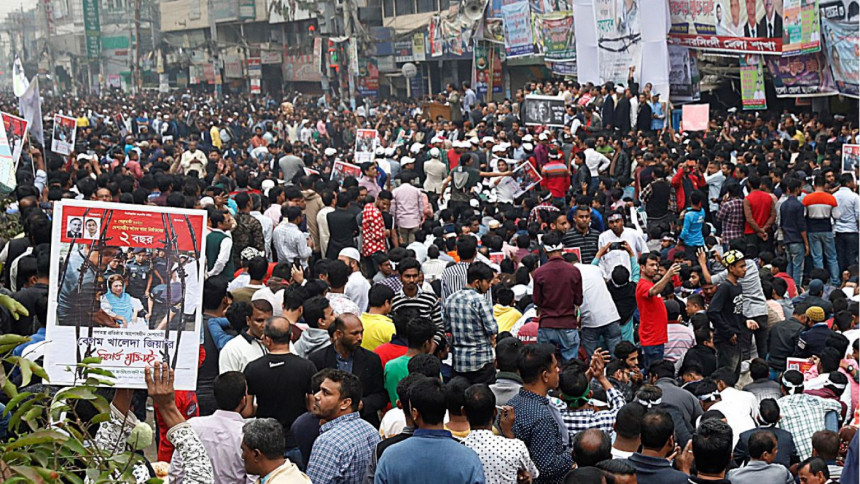 BNP Secretary General Mirza Fakhrul Islam Alamgir today said the party will force the government to release BNP Chairperson Khaleda Zia from jail.
The BNP leader made the remark at a protest around noon in front of the party's Nayapaltan central office in Dhaka demanding release of Khaleda, reports Bangla daily Prothom Alo.
Addressing the programme, Fakhrul said, "We have protested against this, we have also participated in the elections. Now we will have Khaleda Zia released from prison."
BNP organised the programme to observe and protest two years of Khaleda's imprisonment in two corruption cases. The event began at 2:00pm.
Top leaders of the party, including Standing Committee members Moudud Ahmed, Mirza Abbas, Nazrul Islam Khan, Amir Khasru Mahmud Chowdhury, and Iqbal Hasan Mahmud, among others, also addressed the programme.
The BNP chief landed in jail after being sentenced to five years' imprisonment in the Zia Orphanage Trust corruption case on February 8, 2018. Later, the High Court on October 30 enhanced her punishment to 10 years after dismissing her appeal. 
Khaleda was admitted to BSMMU on April 1 last year after she fell ill in jail.