Trawler capsize: another Rohingya survivor rescued from Bay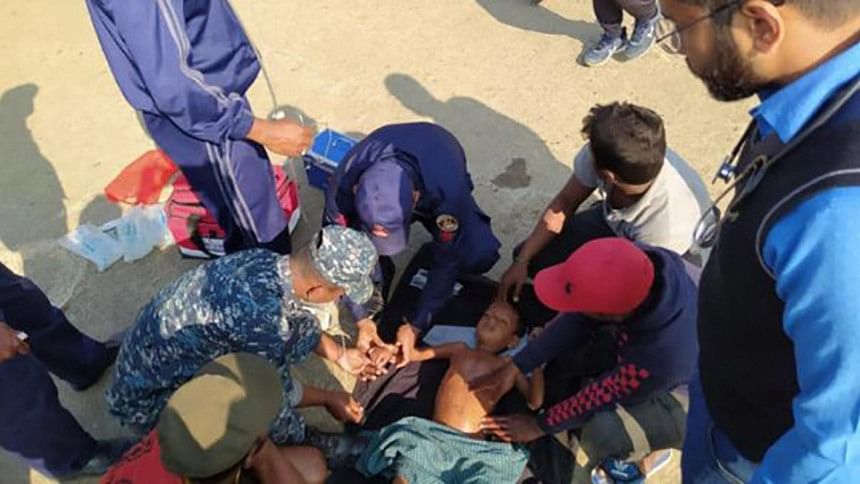 Another Rohingya man was rescued from the sea near St Martin's Island, after around 24 hours of the trawler capsize incident that left 15 Rohingyas dead early yesterday.    
Members of Bangladesh Navy and Coast Guard rescued Md Abdullah (45) around 5:00am and sent him to St Martin hospital, where he is undergoing treatment, our Cox's bazar correspondent reports quoting Lt Commander Nayeem-ul-Haque of St Martin Coast Guard.
The Navy and Coast Guard are continuing their rescue operation in Bay of Bengal in search of survivors or bodies, the Coast Guard official said. 
Apart from the victims, 72 people, including four boatmen, were rescued, while around 50 are still feared missing.
Meanwhile, SM Islam, petty officer of Coast Guard filed a case under anti-human trafficking law against 19 named and some unnamed human traffickers with Teknaf Police Station last night, our correspondent reports quoting police.
After filing of the case, police arrested four human traffickers -- raiding different areas of Teknaf until this morning, said Rakibul Islam Khan, inspector (operation) of the police station.
So far eight human traffickers, including the four boatmen rescued along with 72 survivors, have been arrested in this connection, said the inspector.    
The arrestees will be produced before a Cox's Bazar court today, he added.
The deceased -- 11 women and four children -- were residents of different Rohingya camps in Teknaf and Ukhia upazilas.
The trawler capsized around 5:45am near Zinjira point, some 8km northwest of the St Martin's Island, after running aground, said coast guard officials.
Some fishermen in the Bay saw the incident and informed the Coast Guard of the matter.
Coast Guard members went to the spot around 7:30am and started a rescue operation in association with the navy.
Talking to journalists, a navy official said there were 138 people, including 136 Rohingyas, in the trawler. They were going to Malaysia illegally after human traffickers lured them into taking the risky journey.
They started the journey from Noakhali Para area beside the Cox's Bazar-Teknaf marine drive Monday night, said SM Zahidul Islam, Lt Commander of Navy's St Martin's Island station.
Navy's salvage vessel, Durjoy, and two navy helicopters took part in the rescue operation.
Survivor Khaleda Begum (35) said her husband is now in Malaysia. That is why, she along with her son and daughter went for the journey.
"The trawler capsized early in the morning. I could survive by holding onto a part of the trawler. But my son and daughter died," said Khaleda, who lives in Kutupalong Rohingya camp in Ukhia.