BD well-prepared to face natural disasters: PM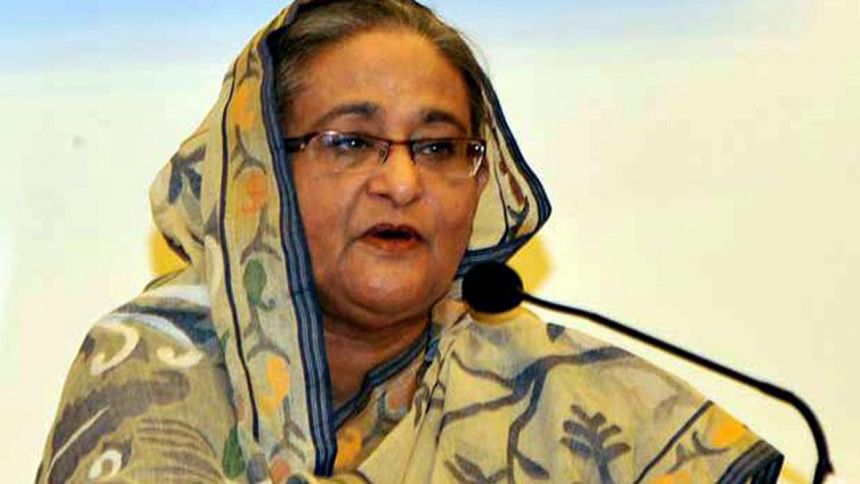 Prime Minister Sheikh Hasina said today that Bangladesh is well-prepared to face natural calamities as the people of this country always live with these problems.
"We live with the natural calamities, Bangladesh is well-prepared to face natural calamities," she said.
The Prime Minister said this while the heads of delegations who came to Bangladesh to attend Dhaka Water Conference called on her at a city hotel.
PM's press secretary Ihsanul Karim briefed reporters after the meeting.
He said the Prime Minister welcomed the delegations and mentioned that this is the best time for them to come here as it is monsoon now. "This is the crucial time, you can see the monsoon here and give your valuable opinions about the water issues after experiencing the season," she said.
Putting high importance on the water management issue, the Prime Minister requested the delegations to find out a way to stop river erosion that has been causing problems in Bangladesh.
She mentioned that the affect of climate change is creating new problems for the whole world including Bangladesh.
Talking about the salinity problem, Sheikh Hasina said that scientists in Bangladesh do their research on the issue and invented salinity-tolerant crops.
LGRD Minister Engineer Khandaker Mosharraf Hossain, Foreign Minister AH Mahmood Ali, Water Resources Minister Barrister Anisul Islam Mahmud and Principal Coordinator of SDG Affairs Abul Kalam Azad were present among others.