'Withdraw all cases in two days'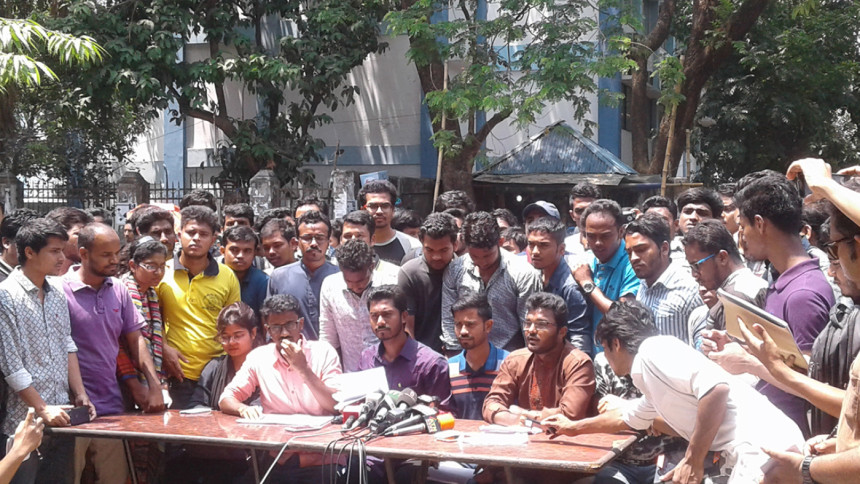 Student leaders today demanded the authorities concerned to withdraw within the next two days the cases filed against them during the quota reform movement, threatening to wage a more vigorous demonstration otherwise.
A total of five cases were filed with Shahbagh Police Station on April 11 by Dhaka University authorities and police against a huge number of unidentified people on charge of vandalism, arson and obstructing lawmen to perform their duty during demonstrations in Dhaka over quota reform in public service recruitment and in connection with the attack on DU VC's residence.
The student body made the demand this morning at a press briefing held in front of the central library on the Dhaka University campus at 11:30am.
Bangladesh Shadharan Chhatra Odhikar Sangrakkhan Parishad, a platform of the students who had been demonstrating for a fundamental reform in the country's quota system in civil service, also claimed to have no political affiliation with BNP, Jamaat-e-Islami and their student wings.
The claim was made following a report published in Bangla daily Ittefaq today that alleged that one of the student leaders of the platform to be an activist of Chhatra Shibir, student wing of Jamaat-e-Islami, and also that he was involved in the attack on the residence of Vice Chancellor of Dhaka University Mohammad Akhteruzzaman on April 9 in a bid to give a violent turn to the movement.
Later, Ittefaq removed the report from its website and apologised for publishing the report.
Terming the report "baseless and politically motivated", Faruk Hasan, co-convener of the parishad, said the leaders and activists of the quota reform movement have no link with BNP or Jamaat and its student wing Shibir.
Instead, they are moved by the spirits of the Liberation War and many of them have close ties to Awami League, he added.
The alleged student, Rashed Khan, said he is a general student and propaganda has been unleashed against him and the movement by opening fake social media accounts impersonating him.
Terming the quota reform movement "timely, logical and non-political movement", the student body urged all not to pay heed to any propaganda against it.
Students under the banner of Bangladesh Shadharan Chhatra Odhikar Sangrakkhan Parishad launched the movement on February 17 to press home their five-point demand, including reducing the quota privilege to 10 percent from 56.
The movement for quota reform turned violent on April 8 as police fired several hundred teargas shells and rubber bullets, used water cannons and charged truncheons to disperse the demonstrators who blocked the Shahbagh intersection for over five hours. The clashes went on throughout the night.
Around 100 people were injured during the clashes.
A section of the protesters broke the main gate of the DU VC residence during the wee hours of Monday, April 9. They vandalised furniture and other belongings, and also torched three cars inside the compound, according to witnesses and fire service personnel.