Students' platform demands release of quota reform activists from jail
Threatens to paralyse country if students, teachers are attacked again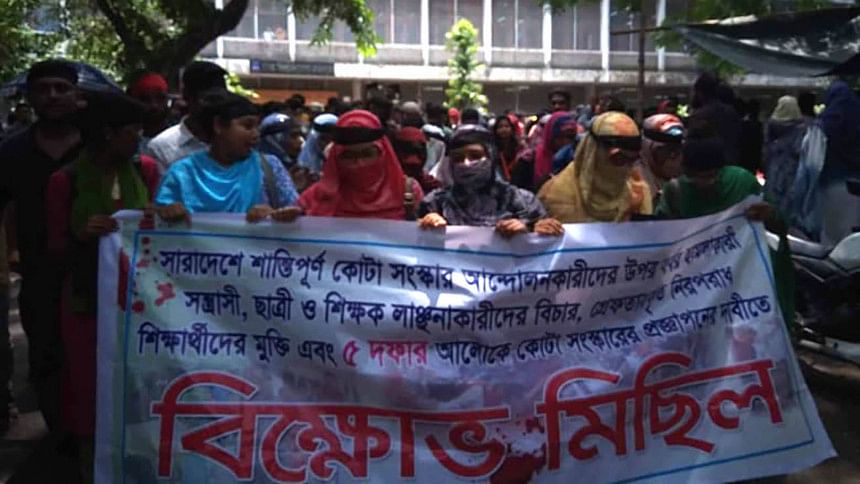 Bangladesh Sadharan Chhatra Odhikar Sangrakkhan Parishad, the platform that spearheaded the movement for civil quota system reformation, today came up with three-point demand including immediate release of their activists from jail.
Their other demands include punishment of the attackers of the teachers and students on campuses of different educational institutions and bringing reformation in the quota system in  the civil service in line with the their earlier five-point demand.
Earlier, around 400 students under the platform brought out a procession from the central library premises on Dhaka University campus around 11:00am today.
Nurul Haque Nur, a joint convener of the platform, who was injured in an attack allegedly carried out by the activists of Bangladesh Chhatra League at DU on June 30, said they will continue their peaceful demonstrations until their demand is met.
"We will continue our peaceful demonstrations until the gazette notification on bringing reformation in the quota system is published," he said.
The students' platform, however, backtracked from their earlier call for boycotting classes.
"We called off our agitation following Prime Minister Sheikh Hasina's announcement on the abolishment of the quota system, but since then there has been no progress in this regard, rather we have been frequently attacked by the activists of the ruling party's student wing," Nur said.
"If there are any more such attacks, we will paralyse the country," he threatened.
The committee for quota review has sought 90 more days to "review, reform or cancel" the quota system in the civil service, on which Nur said this is nothing but procrastination over the issue as the tenure of the present government will be ended by then and the government won't be able to pass any necessary legislation in this regard.