Bodies of 19 Rohingyas recovered as boat capsizes in Teknaf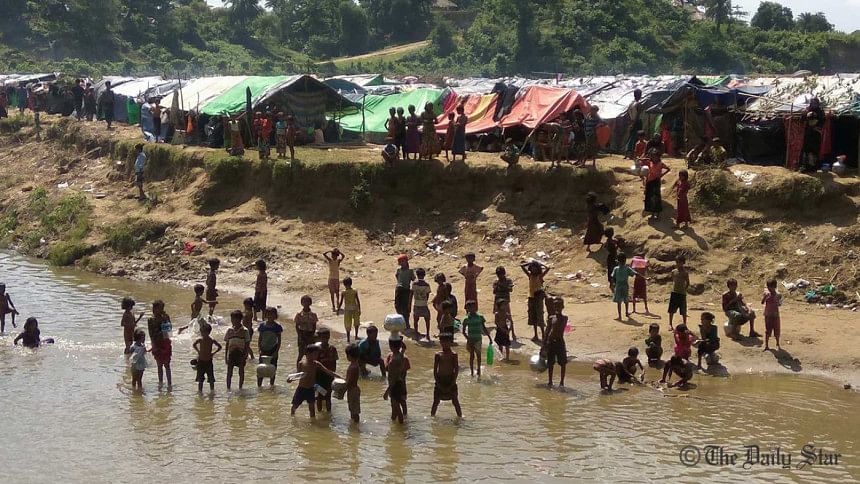 Nineteen bodies were recovered from the Bay of Bengal after a boat carrying Rohingya refugees fleeing Myanmar trying to enter Bangladesh capsized in Teknaf upazila of Cox's Bazar last night.
Read More: They come in thousands
Among the deceased whose identities could not be known yet, ten were children and nine women, our Cox's Bazar staff correspondent reports quoting Officer-in-Charge of Teknaf Police Station Mohammad Main Uddin Khan.
The boat capsized at the west beach (Paschim Saikat) of Subrang union in Shah Pori Dweep in the upazila.
Informed by Subrang Union Parishad member Nurul Amin, law enforcers recovered bodies of two children around 11:30pm yesterday, OC Main Uddin said.
In a combined search of Border Guard Bangladesh (BGB), Coast Guard and Bangladesh police, 17 other bodies were recovered in the wee hours today, the official said.
With this, the death toll from Rohingya boat capsize reaches to 23 as four more drowned in another boat capsize in the Naf river Tuesday night.
Meanwhile, Deputy Commissioner and District Magistrate of Cox's Bazar Mohammad Ali Hossain told The Daily Star that if no one claims the bodies, those will be buried by the police according to rituals.
However, if someone claims, the bodies will be handed over, the official said.
Quoting three UN sources International news agency Reuters reports around 27,400 Rohingya Muslims have fled to Bangladesh to escape violence in Myanmar during the past week and a further 20,000 are marooned in no man's land between the two countries.
Violence erupted in Myanmar's Rakhine State on Friday triggering a fresh influx of refugees towards Bangladesh.
Several thousand Rohingyas from Myanmar, mostly women, children and elderly people, were waiting in no man's land along the Naikhyangchhari border to enter Bangladesh territory.
Though Border Guard Bangladesh (BGB) remains active against trespassing, more than 10,000 Rohingyas have already managed to get into Bangladesh through several points of the 274km Bangladesh-Myanmar border of Cox's Bazar and Bandarban.
Some Rohingya people with bullet and burn injuries have been admitted to different hospitals in the last three days. They claim to be the victims of Myanmar military offensive.