Dhaka to brief diplomats over Rohingya issue tomorrow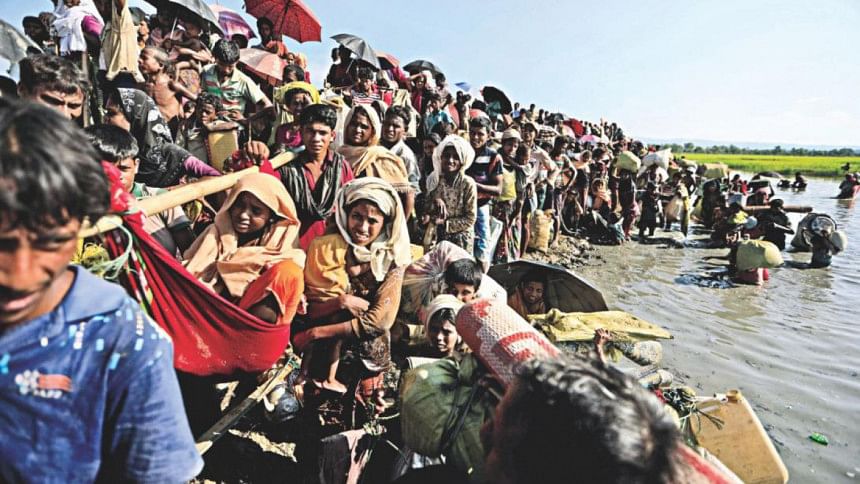 Bangladesh will brief the diplomats stationed in Dhaka about the latest situation over the Rohingya issue tomorrow as two consecutive efforts to begin the repatriation of the displaced people failed amid their unwillingness and trust-deficit among them.

Foreign Minister Dr AK Abdul Momen will brief the diplomats and representatives of the UN agencies at 4:00pm at State guesthouse Padma in capital Dhaka, said an official.

UN Resident Coordinator in Dhaka Mia Seppoon Tuesday said now it is up to the world to help keep it that way by making sure Bangladesh does not shoulder this burden alone as Bangladesh has "certainly done its part" when it comes to the Rohingya crisis.  

She said Bangladesh responded with empathy to a group of people who fell victims to hatred, and now the global leadership needs to act.  

UN Resident Coordinator said the UN is committed to getting the right for both the Rohingyas and the people of Bangladesh as they deserve the world's support in confronting problems related to Rohingyas.  

"Any solution has to be sustainable. Sustainability is not something that can happen overnight. It takes time and thoughtful consideration for how everything we do today will set the stage for what is possible tomorrow," she said.
Despite all the preparations, no Rohingya turned up on August 22 to avail of the "voluntary" repatriation offer given to them to go back to their place of origin in Rakhine State of Myanmar prompting the authorities to suspend the repatriation process.  

Meanwhile, a meeting of a taskforce was held at the Ministry of Foreign Affairs here today that discussed the current challenges and what steps need to be taken in the coming days, an official told UNB.  

The first batch of Rohingyas was scheduled to return on November 15 last year but it was also halted amid the unwillingness of Rohingyas to go back for lack of a congenial environment in Rakhine.  

More than 730,000 Rohingyas fled and took shelter in Bangladesh to escape a vicious campaign of ethnic cleansing since August 25, 2017.  

Bangladesh and Myanmar signed a repatriation deal on November 23, 2017, but there has been a little progress.  

On July 29, Bangladesh handed a fresh list of 25,000 Rohingyas from around 6,000 families to Myanmar for verification before their repatriation to Rakhine state.  

With the latest list, Bangladesh has so far handed the names of around 55,000 Rohingyas to the Myanmar authorities and around 8,000 of them have been verified. Myanmar only cleared 3,450 Rohingyas for beginning the repatriation.  

On January 16 last year Bangladesh and Myanmar inked a document on "Physical Arrangement", which was supposed to facilitate the return of Rohingyas to their homeland.  

The "Physical Arrangement" stipulates that the repatriation will be completed preferably within two years from the start.