They come in thousands
Influx thru' Rezu Amtali border in Bandarban; IOM estimates 18,000 new arrivals in Bangladesh till Tuesday, locals say more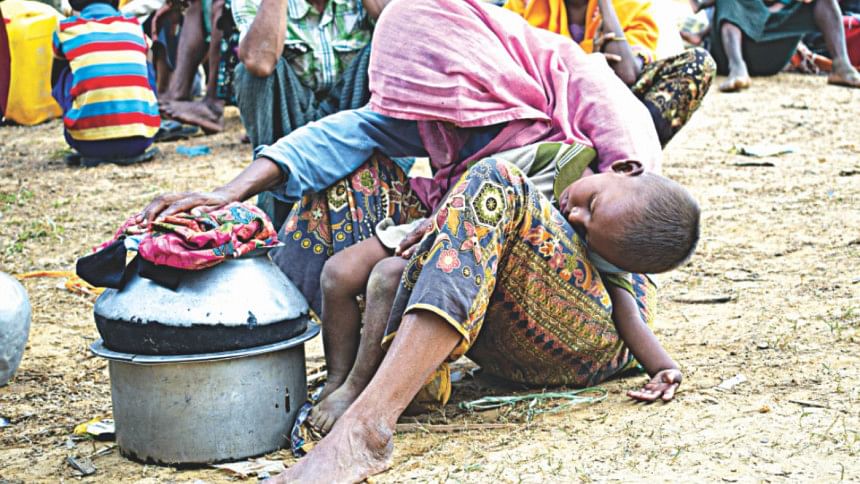 A few thousand Rohingya refugees entered Bangladesh yesterday slipping through the Rezu Aamtali border in Naikkhangchhari of Bandarban.
Most of them were women, children and elderly people.
The Daily Star correspondents saw around 1,000 Rohingyas entering Bangladesh through Rezu Aamtali in two hours yesterday morning. Fleeing their homes in Rakhine state of Myanmar after violence flared up recently, they reached Bangladesh with whatever they could carry, some even with livestock.
Wet in the monsoon rain and mud on their clothes, they were walking towards the Cox's Bazar-Teknaf highway via a hilly road. Most of them were barefoot, exhausted and starving.
"The Mog people are raping women and slaughtering youths. It is not safe at all to stay there. So we fled here … ," said Nurun Nahar, an elderly woman who entered Bangladesh with her three daughters.
The Rezu Aamtali area borders with Myanmar on three sides and the Rohingyas were seen coming from all three directions, with kitchen utensils and clothes.
Some had goats, chicken and cows but most came in empty handed.
Abdul Gafur Mia, 70, came in with his four sons.
"My two sons reached here but the other two are missing. So I am going to Myanmar again to look for them," he told The Daily Star correspondents.
When asked whether they had faced any obstacles crossing the border, most of the refugees in Rezu Aamtali said they did not face any problems. 
The newly-arrived Rohingyas were heading towards either Kutupalong or Balukhali unregistered camps. Many Rohingyas of those camps went to Rezu Aamtali to receive them.
Meanwhile, four Rohingyas died when an engine boat carrying refugees capsized in the Naf river at Shah Pori Dweep last night.
A bullet-hit Rohingya man, who was carried into Bangladesh through Tambru border, died of his injuries on the way to hospital yesterday morning.  
Bangladesh Border Guard (BGB) sent the body back to Myanmar along with those who had brought him.
Myanmar army men patrolled the border at Tambru in Ghumdhum yesterday, which panicked the Rohingyas now on the no-man's land there.
315 HELD, 75 PUSHED BACK
The BGB apprehended 315 Rohingyas and would be sending them back to Myanmar soon, said SM Ariful Islam, director BGB 4 Battalion.
They sent back 75 Rohingyas when they were coming into Teknaf crossing the Naf river on boats.
About Rezu Aamtali border, Lt Col Monzurul Hasan Khan, commander of BGB 34 Battalion, said that in no way the border was open. He said it was not possible for the BGB to have equal levels of vigilance at every point of the border with Myanmar.  
He said they had captured 50 Rohingya refugees of unregistered camps who had gone to the Rezu Aamtali border so that they could claim to be newly arrived refugees and get ration benefits at the camp.
BGB members were active at border, he said.
Meanwhile, Rohingya refugee Md Zafar Alam of Nayapara unregistered camp in Teknaf was arrested from a bus heading towards Cox's Bazar yesterday. He was carrying 25 shotguns shells, said a BGB official. 
IOM STATEMENT
The International Organisation of Migration (IOM) yesterday said as per their estimates, 18,000 Rohingyas arrived in Bangladesh until Tuesday.
Sangjukta Sahani, head of IOM sub office in Cox's Bazar, told journalists yesterday that thousands of distressed Rohingyas were staying at the border of the two countries.
The Rohingya issue was not a mere problem of two neighbouring countries, it has become an important international issue, she said.
COWS FOR PRICE OF GOATS
As Rohingya people were bringing in some cows through the Rezu Aamtali border, local influential people seized the opportunity and were buying Burmese cows for the price of goats here.
Local leaders of Bangladesh Chhatra League and Bangladesh Nationalist Party (BNP) were seen roaming the Rezu Aamtali border area and their associates haggling with the refugees.
One local bought six cows for Tk 1 lakh while another bought four cows for Tk 80,000.
A local journalist said the Rohingyas have no option but to sell their livestock as they desperately need the money and locals do not allow them to sell cattle in the market. 
The BGB apprehend 132 cows at Rezu Aamtali and sold them in an auction. The Daily Star correspondents heard loudspeaker announcements in Rajapalong area requesting people to bid in the auction.