Attempt to murder case now filed against Nur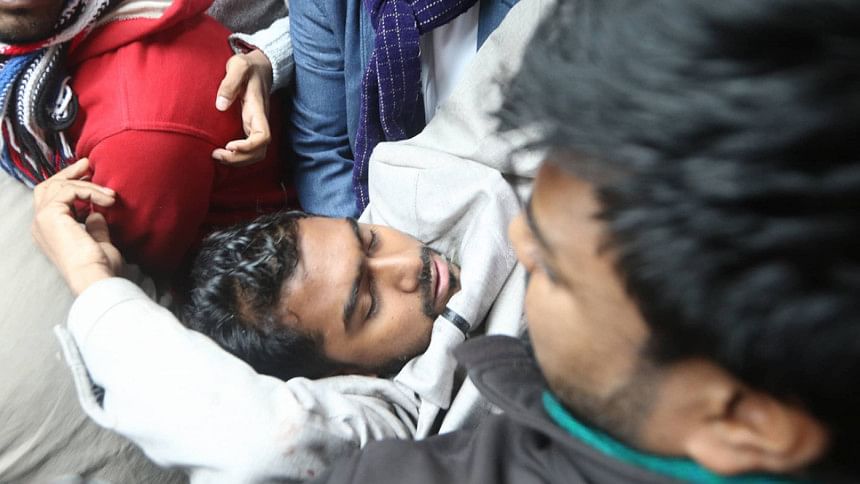 A member of Muktijuddho Moncho has filed an attempt to murder case against Ducsu Vice President Nurul Haque Nur following the incident of December 22, where Nur and 26 others were beaten up.
DM Sabbir Hossain, a member of the moncho and also former vice president of Zahurul Haque hall unit BCL, filed the case naming Nur and 28 others with Shahbag Police Station, SM Shamim, assistant commissioner of Ramna Zone told The Daily Star.
In the case statement, the plaintiff claimed that Nur and his 20-25 followers attacked them with sharp weapons and sticks attempting to kill them. Sabbir and seven others were injured in the attack, according to the case statement.
Sabbir lodged a complaint last night which turned into a lawsuit this afternoon, the police official said.
The case was filed at the time when the civil society members, rights activists and even general people strongly condemned the attack on Nur and demanded punishment of the moncho activists, who swooped on the Ducsu VP and his followers.
Amid criticism, police filed a case against the members of Muktijuddha Moncho, which was formed to counter the activists of quota reform movement. 
Nur, who was injured along with his 26 followers, also filed an attempt to murder case accusing DU unit BCL president and secretary and 35 others following the attack.
A day after the attack, Prime Minister Sheikh Hasina has given a clear instruction to take organisational and administrative actions against the persons who attacked Ducsu Vice President Nurul Haque Nur and his followers.
Awami League General Secretary Obidul Quader and Home Minister Asaduzzaman Kamal also warned of taking action against the attackers of Nur.
On December 22, activists of a faction of Muktijuddho Moncho, mostly comprised of Chhatra League men, beat up and injured Nur, storming into his office at the Ducsu building.
At least 27 of Nur's supporters were injured in the attack.