Cases against Nur: Eminent citizens express strong condemnation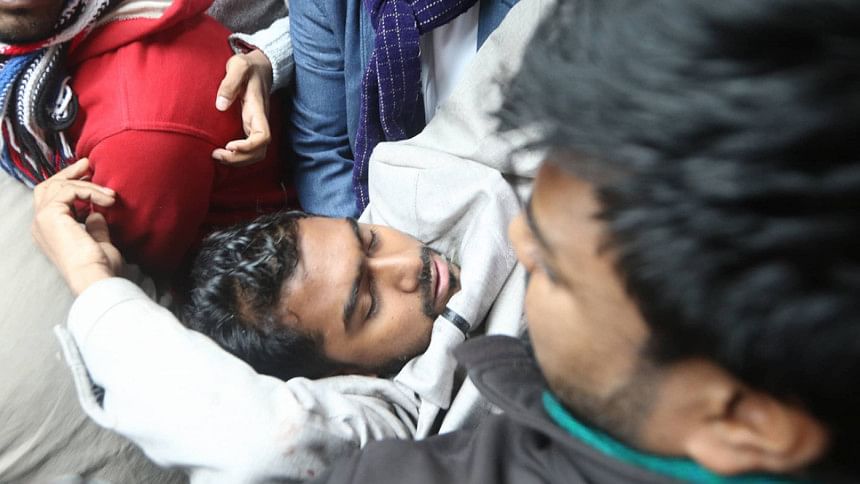 The country's eminent citizens today expressed strong condemnation for harassing Ducsu VP Nurul Haque Nur and activists of Sadharan Chhatra Odhikar Songrokkhon Parishad by implicating them in cases, one under Digital Security Act 2018.
In a joint statement, they said a case was lodged against Nur and Sadharan Chhatra Odhikar Songrokkhon Parishad Joint Convener Md Rashed Khan under 25, 26, 29 and 31 provisions of the act on December 26.
Soon after the approval of the law (Digital Security Act 2018), concern has been expressed from all sections of people that the law will be enforced to meet the petty political interest and that has been proved through lodging of the case, the statement read.
On the same day (December 26), an attempt to murder case was also filed against Nur and 43 students, the statement reads.    
Such type of evil attempt will have to be stopped immediately to uphold the citizen's fundamental human and constitutional rights, they said in the statement.
Badiul Alam Majumdar, Shadeen Malik, C R Abrar, Asif Nazrul, Swapan Adna, Parvin Hasan, Syeda Rizwana Hasan, Ferdous Azim, Rehnuma Ahmed, Mirza Taslima Sultana, Sayeed Ferdous and Shahidul Alam are among the signatories.
They said, the students have been coming under attack and harassed by implicating them in cases when they carry out movement in light of the constitutional rights.
After being injured in attacks at Ducsu Building on December 22, leaders of the parishad APM Suhel, Tuhin Farabi, Mehedi Hasan, Aminur and some of their followers were admitted to Dhaka Medical College Hospital, but their parents blamed the hospital authority for playing hide and seek game in the name of treatment, they said.
The allegation will have to be considered with adequate importance and the present state of the victims will have to inform the people, the eminent citizens made the call in the statement.  
Apart from this, the government will have to ensure treatment facilities of the injured students with its own cost, they said.