I face wrath for protesting their wrongdoings
Alleges VP Nur citing recent attacks on him by 'ruling party men'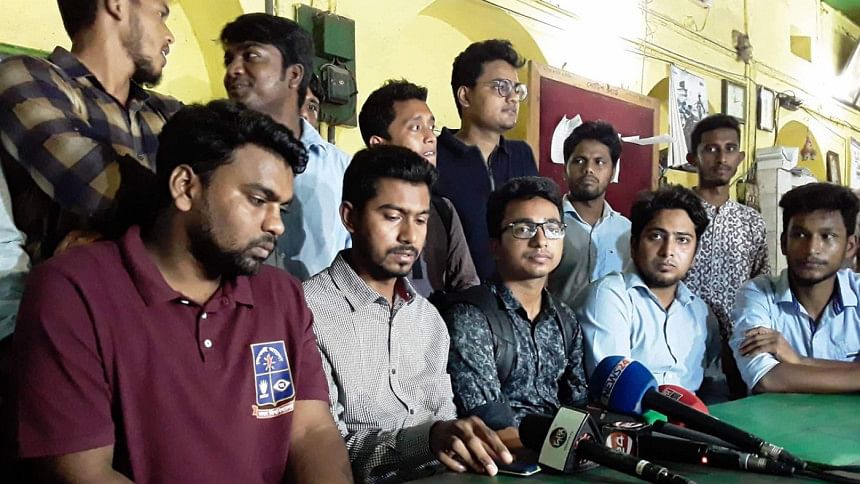 Ducsu Vice-president Nurul Haque Nur yesterday alleged that he and activists of his organisation face the wrath of the ruling party men frequently for protesting their wrongdoings.
At a press conference at Madhur Canteen, he also alleged that Awami League men and members of law enforcement agencies had threatened him that he might have to face the fate of BNP Chairperson Khaleda Zia if he opposed the government.
 On Wednesday, Nur and his several friends were beaten up allegedly by local Chhatra League and Jubo League activists in Patuakhali's Galachipa while they were going to the house of Nur's sister in Dashmina upazila. The attackers also confined them to a shop. 
Nur is the joint convener of Bangladesh Sadharan Chhatra Adhikar Sangrakkhan Parishad, the platform spearheading the quota reform movement.
"I did not commit any crime. The activists of my organisation and I frequently face the wrath of ruling party men only for protesting their wrongdoings and irregularities. Besides the ruling party leaders, we are also receiving threats from members of detective agencies. They are even threatening me with life," he said.
"Galachipa upazila Chairman Shahin Shah led the attack on the directives of Patuakhali-3 lawmaker SM Shahjada Shaju," Nur alleged.
He claimed that Shahin's brother Nure Alam, Dashmina unit AL Organising Secretary Mainul Islam, Ulania unit Jubo League leader Shakil, and over 100 others of pro-ruling party organisations attacked him with rods, steel pipes, and machetes.
The attackers also prevented him from getting treatment at hospitals, the Ducsu VP alleged.
Contacted, Shahin and lawmaker Shahjada refuted the allegation of their involvement in the attack.
"Nur is spreading propaganda against me to demean me," Shahjada told The Daily Star.
Shahin claimed neither he nor any AL activists were involved in the attack.
"I have been attacked eight times by the activists of Chhatra League and other ruling party affiliated organisations since I was elected Ducsu VP on June 30 last year," Nur said.
He alleged that no actions were taken against those involved in the attacks.
"The attackers' intention was to kill me and weaken the resolve of the activists of my organisation. So, I request the countrymen to stand by me and raise their voice demanding punishment of the attackers," he added.
Demanding justice from the prime minister, Nur said, "A few days ago, you said there is no bar to criticising the government and there is freedom of expression in the country.
"So, we request you to instruct your party men and law enforcement agencies to stop the repression on the dissenting voices and ensure a democratic atmosphere. Make the law enforcement agencies effective by freeing them from party influence."