Assaulted by ruling party goons: Nur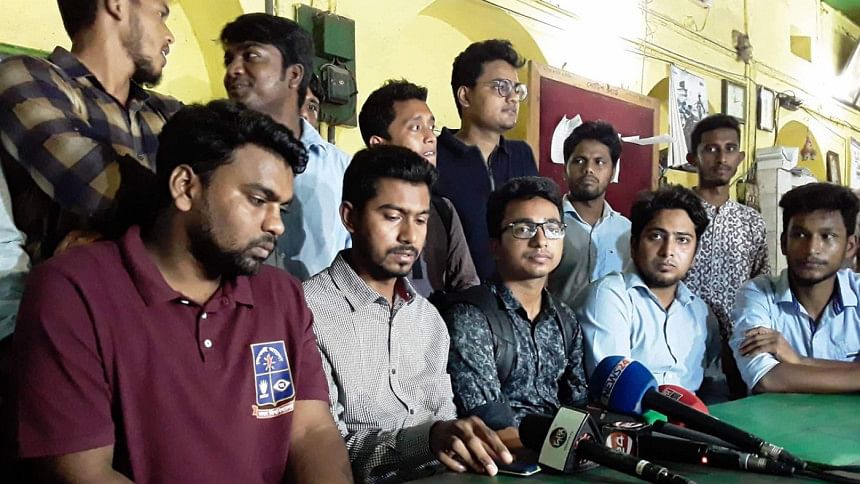 Nurul Haque Nur, vice president of Dhaka University Central Students' Union, today alleged that his life is being threatened by the goons of the ruling quarters.
The Ducsu VP said this at a briefing at Madhur Canteen on DU campus around 12:00noon, reports our DU correspondent.
Nur held the briefing in response to an assault on him at Ulania Bazar area under Galachipa upazila of Patuakhali on August 14.
"I feel that my life is being threatened for my stance against the lawlessness and irregularities," Nur said.
"On August 14, I was attacked by goons at Ulania Bazar on the way to my sister's home in Dashmina," he said.
"Galachipa upazila Chairman Shahin Shah led the attack on instruction from Patuakhali-3 lawmaker SM Shahjada Shaju," Nur alleged, adding "Shahin's brother Nure Alam, local AL municipality unit leader Mainul Islam, Ulania unit Jubo League leader Shakil, and over a hundred other local leaders and activists of the ruling party's different front organisations launched the attack on me with metal rods, steel pipes, and machetes in a bid to kill me."
"The goons were not done with injuring me in the attack, they also did everything to deprive me of treatment and have since then threatened me not to make a fuss about the incident," Nur said.
"You all know, since the time I was elected VP of Ducsu on June 30 last year, I have so far been attacked eight times by the goons of Bangladesh Chhatra League and activists of other ruling party front organisations," he added.