Anti-narcotics drive: 9 killed in 'gunfights' in 7 districts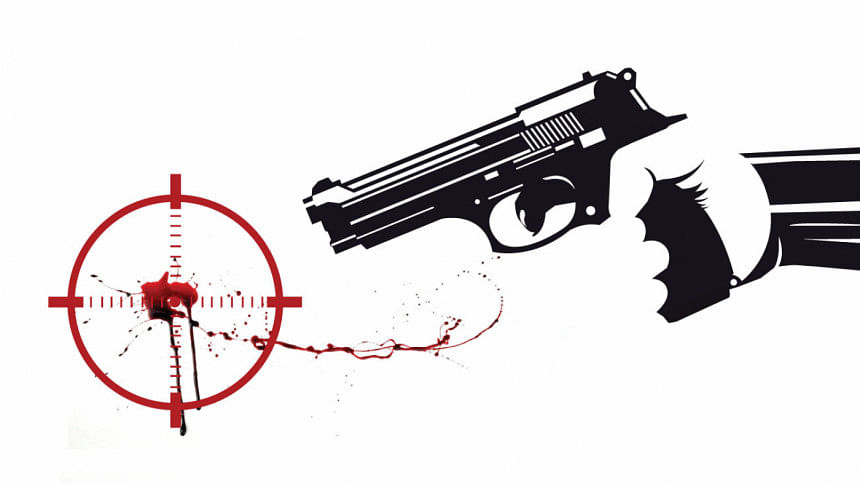 Nine alleged drug peddlers have been killed in what law enforcers described as "gunfight" over last night amid countrywide crackdown on narcotics.
Among them, three were killed in Jessore, and one each across Chuadanga, Rajshahi, Narsingdi, Jhenidah, Gazipur and Tangail, our local correspondents and agencies report.
In Jhenidah, a drug peddler identified as Sabdul Mondol, 42, was killed in Kaliganj, said local Rapid Action Battalion (Rab) commander Golam Morshed. A 0.9mm pistol, two bullets, 100 bottles of phensydil, and 150 yaba tablets were seized.
READ MORE: Shootout spree on
However, one Abdul Mannan, a villager of Narendrapur, said plainclothes picked Sabdul up on Sunday afternoon when the latter was working on his vegetable crop.
In Jessore, three drug peddlers yet to be identified, were killed in Khejur Bagan and Kholadanga areas of town, said Kotwali Police Station Officer-in-Charge Ajmal Huda.
Police recovered 500 pieces of Yaba, two pistols and cartridges from the spot.
In Chuadanga, Janab Ali, 32, was killed in Jibonnagar upazila, our Kushtia correspondent reports quoting local police station Officer-in-Charge Mahmud Rahman.
Seeing a group of seven to eight people at Synnashitola field, a patrol team of police went to frisk them around 3:30am. The mob opened gunfire when police approached, compelling police to fire back, according to official statements.
READ MORE: PM firm against drug traders
In Rajshahi, a suspected drug peddler was killed in a "gunfight" with members of Rab-5 around midnight. Huge amounts of Yaba, arms and ammunition were recovered from the spot, according to a text message sent to media by Rab.
In Narsingdi, a "drug-peddler" accused in multiple criminal cases was killed, according to a text message sent to media by Rab. The deceased was yet to be identified.
Large amounts of Yaba tablets were recovered from the spot.
According to UNB, in Tangail, suspected drug trader Abul Kalam Azad Khan, 42, from Ghatail, and also accused in five cases, was killed in Deula Bari around 12:00am.
Also, in Gazipur, one Rezaul Islam, an accused in 15 cases, was killed in Tongi around 3:00am, according to Tongi Model Police Station OC Kamal Hossain